What is Memory Partitioning?
Let's start with the basics to get you informed
Memory partitioning refers to the ability of a dash cam to separate video files based on the type of recording, so that only the same kind of files can overwrite each other. This is actually an extremely important feature, found only in premium dash cams, as it provides significantly more protection.
Dash cams record video footage onto a microSD card, meaning that total memory capacity is based on the size of this card.
Most dash cams today accept up to 128GB microSD cards which translate to roughly 10-30 hours of recording, depending on the dash cam (there will be differences in the size of video files for dash cams that are front only, front and rear, higher video resolution, etc.).
This means that after this amount of recording, the earliest data recorded will begin to be overwritten with the latest footage.


Thinkware dash cams separate your files according to their recording mode, within folders for Continuous, Continuous Incident, Manual Recording, Motion Detection or Parking Incident.
Benefits of Memory Partitioning

What memory partitioning does is that it allows video files to be separated based on the type of files that they are. For example, during regular recording, the files are marked as normal types. When an impact occurs, the file becomes an event file. When motion is detected during parking mode, the file becomes a motion file. This reduces the risk of overwriting old content.
This allows the dash cam to save very important footage such as when your vehicle is involved in an impact or when someone walks by. Of course, these files can still be overwritten but only if the same kind of files record over and over again.
This means that impact files will only be overwritten if impact keeps becoming detected, which is highly unlikely. Thus, even a dash cam that's using a large microSD card and without memory partitioning may not be as beneficial as a dash cam that's using a small microSD card with memory partitioning.
For some dash cams, the memory partitioning can even be adjusted so that a larger portion of the microSD card is used for the different types of video files.
For example, Thinkware dash cams come with 3 modes of memory partitioning to choose from, with each one dedicating more memory space to partition normal, impact or motion files.
| | | | |
| --- | --- | --- | --- |
| Folder | Type A (Incident) | Type B (Manual) | Type C (Parking) |
| | | | |
| | | | |
| | | | |
| | | | |
| | | | |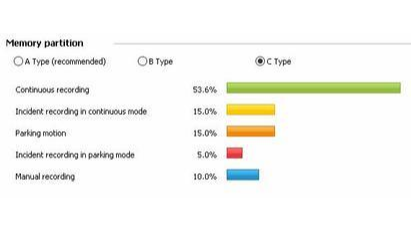 Thinkware dash cams offer three partition types. We recommend C type for the most parking mode recording
When paired with an SD Card, the memory card partitioning features really complement parking mode and help to reduce the risk of compromising important video files. There's nothing worse than seeing damage on your car only to find out that by the time you check the card, the camera had overwritten the clip.
A dash cam in your vehicle will help you in whatever situation you're in. So what are you waiting for? Explore our collection of dash cams today. If you have any further questions, comments or suggestions, then don't hesitate to reach out to our product experts today!
Explore Our eLearning Guides

---
Not to fret, our in-house product experts are here to help. We have spent years curating helpful content and video guides, helping customers with their dash cams, but we understand that we can always do better. Contact us using the form below and we'll get back to you as soon as we can. We love what we do, because we're here to help you make the most informed purchasing decision.