BlackVue DR590X Full HD
In-Depth Review
The BlackVue DR590X is an excellent choice for drivers who appreciate the Full HD video resolution but don't necessarily need all the additional bells and whistles of the premium 4K UHD models. This dash cam is perfect for those looking for a solid entry-level dash am that offers great parking mode protection.
The BlackVue DR590X redefines entry level. With some of BlackVue's best technology, including advanced parking recording, the DR590X is a great dash cam to start because it blends performance and reliability into a super stealthy design that's more affordable than you might think.
Front: 1080p Full HD at 30FPS
Rear: 1080p Full HD at 30FPS

139° Wide Field of View

2.1 MP

CMOS image sensor

Motion & impact detection
✓  Dual-channel (front & rear) coverage
✓  Great Parking Mode Coverage
✓  Unobtrusive, modern design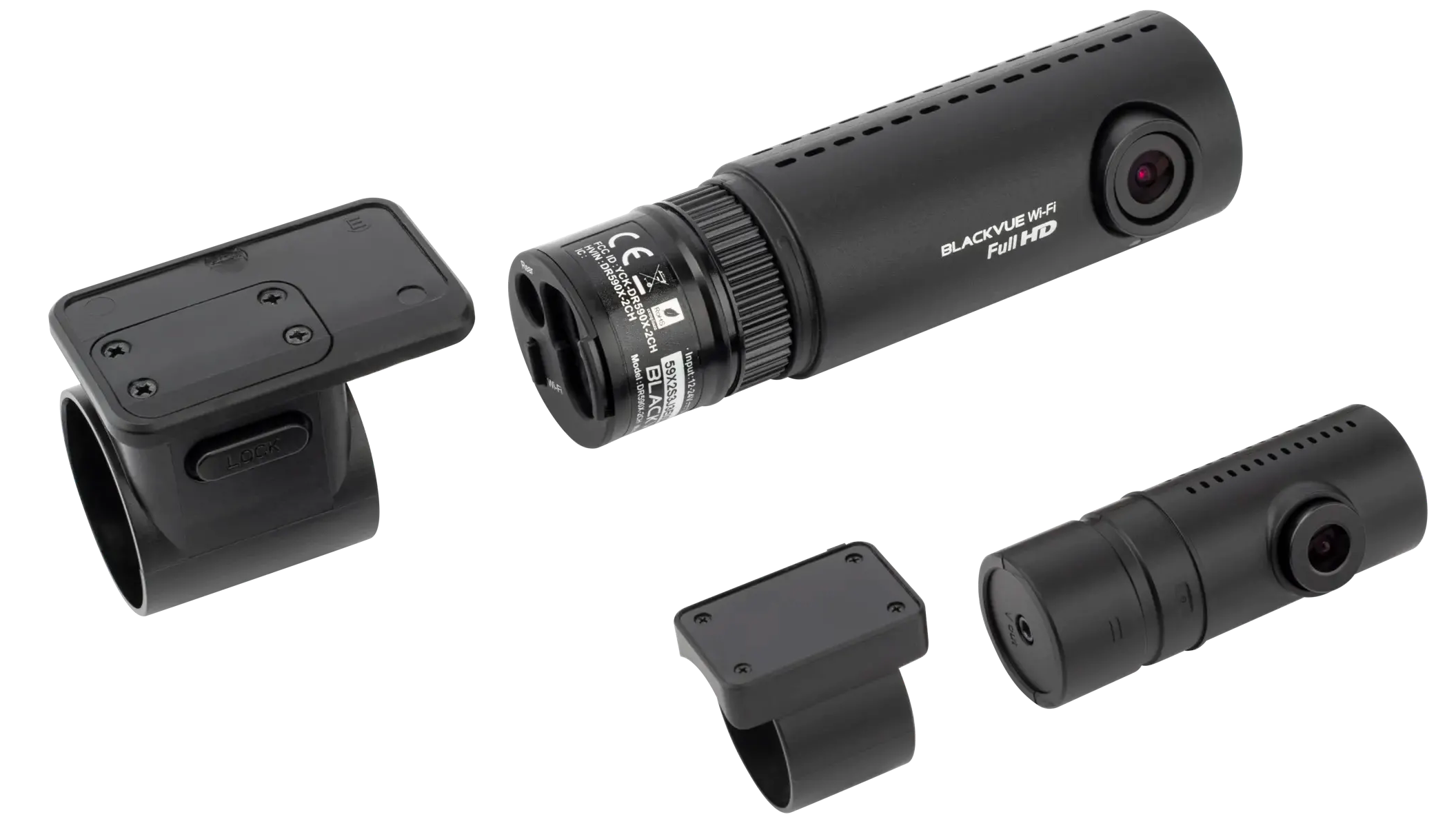 The BlackVue DR590X is a fully-functional Full HD dash cam, whether you choose to use the optional LTE module and Cloud features or not.
BlackVue dashcams are very easy to install and the DR590X is no exception. Straight out of the box, attach the front unit to the windshield behind the rear view mirror with the provided double-sided tape. This way, the dashcam is invisible to the driver's eye. Then, plug the power cords into the cigarette lighter / accessory power socket of your vehicle and it will automatically start recording as you turn ignition on. Once set, you can forget about it, knowing it will reliably record your drive.
If you choose to hardwire the dash cam to your vehicle's fuse box, you will unlock the DR590's' parking mode recording function with motion and impact detection. Because the DR590X comes with built-in voltage monitor, you don't even need the BlackVue Power Magic Pro (PMP) like the old BlackVue S-series.
If you have purchased the DR590X-2CH dual-channel dash cam system, you will need to connect the rear camera using the included rear camera connecting cable. Route the cable down the length of your vehicle and attached the rear camera on your rear windshield.
All video footage is automatically saved on the microSD card (supports up to 256GB). The loop recording feature ensures that there is always storage space for your latest videos. The DR590X does not come with a screen on it but there are many ways for you to play back your videos. You can also remove the microSD card and plugged into your PC or Mac using the included microSD card reader. Alternatively, you can also access the videos using the free BlackVue mobile app and a direct WiFi connection.
Everything you need to record your drive is included in the box: front camera with adhesive windshield mount, rear camera with mount and connecting cables, microSD card, plug-in power cable and BlackVue 3 Wire Hardwiring Kit.
1080p Full HD Video Quality

Getting a dash cam is all about having video proof, and with it's 2.1MP Sony STARVIS CMOS image sensor, the DR590X records Full HD videos from the front camera. If you are using the DR590X-1CH, your front camera records at 60FPS.
If you are using the DR590X-2CH dual-channel system, you will also get 1080p Full HD recording from the rear camera, but because both front and rear cameras are recording simultaneously, you're limited to recording at 30FPS.
The difference between 30FPS and 60FPS is with 60FPS, your footage will appear more smooth, more fluid and videos look more lifelike as the camera can better catch details in fast moving objects thanks to reduced motion blur.
Note that the front camera of the DR590X-2CH is only capable of Full HD at 30FPS, even if you decide to skip the rear camera. If you are looking for recording at 60FPS, you will need to consider the DR590X-1CH (and not have a rear camera), or upgrade to the DR750X-2CH, which is also a Full HD dash cam but will give you native 60FPS recording.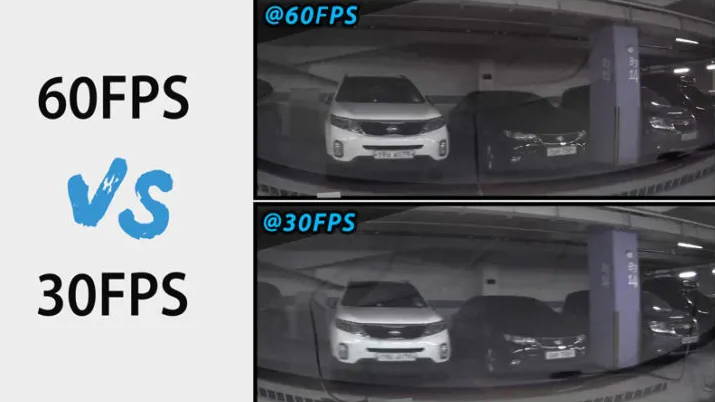 The DR590X Series is compatible with parking mode. In Parking Mode, your dashcam monitors your parked vehicle, recording videos when it detects movement or impact. It also includes the few seconds before the triggering event, thanks to buffered recording. You will need the optional BlackVue 3-wire Hardwiring cable or Power Magic Ultra Battery Pack (B-124X) to enable this feature.
The DR590X automatically switches to Parking Mode when the ignition is switched off, and will continue to monitor you're your vehicle, recording and storing events for review later.

Unlike the previous DR590S, the DR590X has voltage monitoring built into the dash cam, you don't have to worry about the dash cam depleting your vehicle's battery when operating overnight. Of course, for extended recording times we still strongly recommend using the Power Magic Ultra Battery B-124X.
BlackVue App (iOS, Android) & Viewer (Windows/Mac)

The BlackVue App (iOS/Android) and Viewer (Windows/Mac OS) are free to download and use. Both allow you to change settings and review videos sorted by time and type (Normal/Event/Parking).
With the BlackVue App, connect via Wi-Fi to your dash​cam to retrieve videos on the spot. Our dash cam experts also like to use the app's camera Live View for easy set-up and positioning of the DR590X in the vehicle.  
For those with a lot of footage for playback, the BlackVue Viewer is probably the easiest solution. Access recordings on your camera's microSD card, simultaneously viewing front and rear camera footage, moving maps and GPS data including time, date and speed. All video clips are listed by date, time and recording mode (Normal, Parking, Event, etc.), making it simple to quickly identify and archive important footage. BlackVue Viewer also provides access to your camera's settings, as well as the ability to update your dashcam's firmware when necessary.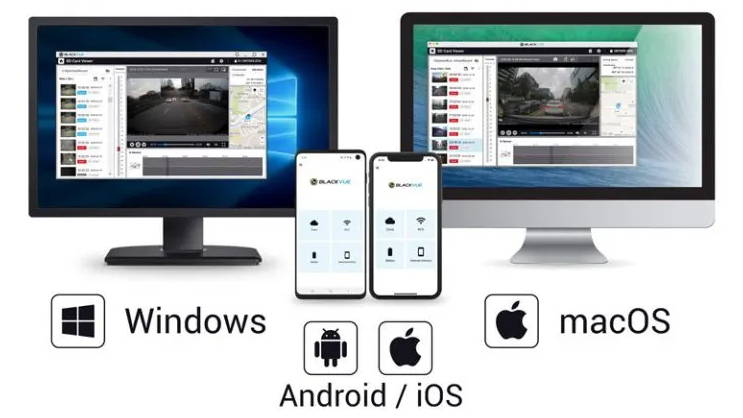 The DR590X comes with several features that help make sure your videos and dash cam are safe.
Scheduled Reboot: Schedule a daily automatic reboot (optional—at night by default) to minimize potential errors. Reboots happen only if the dashcam is in Parking Mode and not writing data to the microSD card.
Event Files Overwrite Protection: dashcams record in a loop, overwriting older files when the memory is full. BlackVue can prevent Event files (triggered manually or by impacts) overwriting. Up to fifty (50) files can be protected this way. You can choose to allow new Event files to overwrite past Event files, thus keeping the latest fifty.
Adaptive Format-Free File Management: this BlackVue-developed file system improves recording stability and requires less microSD card formatting.
SD Card Failure Alert: your BlackVue detects as soon as the microSD card fails and warns you with a "Please check SD card" voice alert.
Can I Use the Same Cables If I'm Upgrading?

The DR590X is essentially the DR590S with the added built-in voltage monitoring and the USB port for the CM100G LTE Module.  
With that said, upgrading from the BlackVue DR590S is as pretty straightforward. The rear camera and all the connecting cables are the same - giving you the option to leave existing wiring intact and simply just replace the front unit.
Here's what you can keep from your existing 2-Channel DR590S:
Rear camera and rear camera mount
Rear camera connecting cable
Here's what you need to replace
An upgrade is worth if...
✔ You need an always-connected solution for your dash cam and vehicle(s)
✔ You are looking for a dash cam + hotspot all-in-one solution
✔ You want a more reliable, hassle-free hardwiring solution
We would like to end this follow-up review with several customer questions and feedback.