BlackVue DR900X Plus 4K Dash Cam In-Depth Review
The Best BlackVue Dash Cam To Date
BlackVue DR900X Plus 4K UHD Cloud Dash Cam

With its latest dash cam release, BlackVue once again raises the bar for what it means to be a true 4K UHD smart dash cam. The DR900X Plus is the 3rd generation of the BlackVue DR900 4K series, and while it comes in the same signature stealthy cylindrical form, it offers BlackVue's best video quality to date. Coupled with innovative features like seamless app pairing and hotspot functionality, the DR900X Plus redefines "set and forget."
The BlackVue DR900X Plus is available in the 1-Channel,(front) 2-Channel(front + back) and 2-CH IR (front + interior) models.
4K Ultra HD

162° Wide-Angle Lens

Front: 8MP CMOS Sensor

Rear: 2.1MP Sony STARVIS CMOS Sensor

Native Parking Mode with built-in voltage monitor
Built-in Motion and Impact detection with buffered recording
Built-in WiFi and Bluetooth
Built-in GPS
Seamless Pairing with BlackVue App
BlackVue Over the Cloud-Ready
✓  4K UHD front recording
✓  Upgraded image processor
✓  Optional LTE module for Cloud connectivity
✓  Real-time vehicle tracking via Cloud
✓  Cloud backup and storage
✓  Seamless App pairing
✓  Mobile hotspot capabilities
✓  Driving & Parking Impact Notification
✓  Unobtrusive, modern design
✕ Large 4K footage files requires larger capacity memory card

✕ No option to decrease image quality
✕ Not compatible with S series power cabling
4K Ultra HD
2K QHD Optional Rear Camera

150° Wide-Angle Lens

8.42MP Sony

Exmor R Starvis IMX3343 (front)

5.14MP Sony Exmor R Starvis IMX335 (rear)

Energy Saving Mode 2.0
Super Night Vision 2.0
Live View (Driving/Parking)
Geo Fencing
Locate Vehicle
Driving/Parking Impact Notification
Road Alert Systems
Safety Camera Alert
Built-in WiFi
✓  4K UHD front recording</span
✓  2K QHD rear recording
✓  Real-time vehicle tracking via Cloud
✓  Geo-fencing and alerts
✓  Driving & Parking Impact Notification
✓  Unobtrusive, modern design
✕ Large 4K footage files requires larger capacity memory card
The BlackVue DR900X Plus is a fully-functional 4K UHD dash cam, whether you choose to use the optional LTE module and Cloud features or not.
Straight out of the box, just plug the dash cam into your cigarette lighter socket and it will power on and off with the vehicle, automatically recording audio and video as you drive. If you choose to hardwire the dash cam to your vehicle's fuse box, you will unlock the DR900X Plus' buffered parking mode recording function with motion and impact detection.
All video footage is automatically saved on the microSD card (supports up to 256GB). The loop recording feature ensures that there is always storage space for your latest videos. Like other BlackVue dash cams, the DR900X Plus does not come with a screen on it but there are many ways for you to play back your videos. You can remove the microSD card and plugged into your PC or Mac using the included microSD card reader. Alternatively, you can also access the videos using the free BlackVue mobile app and a direct WiFi connection.
Same Ultra-Stealth Design, Now With Better Video Quality

The DR900X Plus is BlackVue's best dash cam to date in terms of resolution. It sports the same 8MP CMOS image sensor as its predecessors, but BlackVue has installed a new image processor inside the DR900X Plus. As a result, the daytime and nighttime video quality are crisper with more refined details than the DR900X and DR900S.
Also, when comparing driving footage, we noticed that the DR900X Plus could pick up details that were farther away - details that the DR900S and DR900X would have missed. All this, coupled with the improved dynamic range and the camera's ability to auto-adjust in different lighting situations, the DR900X Plus can capture more details over a more extended range than before.
Rear Camera Video Quality

The front camera is not the only upgrade found in the DR900X Plus - the rear camera now sports a 2.1 megapixel Sony STARVIS image sensor (IMX327). While it's still a Full HD camera, the new image sensor significantly improves the DR900X Plus' low-light performance without extra noise or grain. If you're wondering, the DR900X Plus shares the same rear camera as the DR750X Plus.
Image quality seems pretty similar, but I see better low light sensitivity with the Plus. If I turn on Night Vision on the DR900X, brightness is identical to the DR900X Plus, but it adds a bunch of extra noise and grain. The DR900X Plus can give you better low light sensitivity.
No Longer Available: H.265 and Customizable Camera Options

The option to use the H.265 codec is no longer available in the DR900X Plus. While we did like the extra compression provided by H.265, we understand the compatibility concerns that come with it. For instance, you will need Android™ 5.0+ and iOS™ 11 on your phone, or Windows® 10 and MacOS® High Sierra on your computers to properly play an H.265-encoded file, otherwise you will get a lot of stuttering. It appears that BlackVue has removed this to keep things simple.
Also missing in the DR900X Plus is the ability to customize exposure levels. You may wonder how one setting will work for all: CPL, non-CPL, tinted windows, etc. Well, it seems the BlackVue engineers have come up with an algorithm that allows the camera to auto-adjust exposure on the fly. And let's be honest, not many people don't bother tweaking those options on their dash cams anyways. So, in our most honest opinion, automatic exposure is probably best for most drivers.
BlackVue's unique Intelligent Parking Mode is ideal if you worry about hit-and-runs, theft or vandalism while your vehicle is parked and left unattended. The DR900X Plus supports Buffered Recording with Motion and Impact Detection, and Time Lapse Recording.

Motion and Impact detection mode uses your cameras image sensor to detect movement, and the inbuilt accelerometer/G-sensor to detect bumps or impacts. To reduce the number of unwanted recordings triggered by motion and movement, the DR900X can specify areas to ignore, eliminating recordings triggered by things like swaying trees, far-away moving objects, etc.
In Time Lapse mode, to reduce the size of the video files and save SD card space, the camera will continuously record at just 1FPS (one frame per second), rather than the standard 30/60 FPS. All event clips however are recorded at full resolution and 30FPS. A standard 32GB microSD card can store over 48 hours of time lapse video at the highest (Extreme) video quality level.
The DR900X Plus automatically switches to Parking Mode when the ignition is switched off, and will continue to monitor you're your vehicle, recording and storing events for review later – or alerting you in real time via the BlackVue app if you are using the optional CM100LTE connectivity module. Video buffering ensures that your camera will also record the seconds leading up to the event, ensuring you have the whole picture.

Unlike the previous DR900S, the DR900X has voltage monitoring built into the dash cam, you don't have to worry about the dash cam depleting your vehicle's battery when operating overnight. Of course, for extended recording times we still strongly recommend using the BlackboxMyCar PowerCell 8, Power Magic Ultra Battery B-124X or the Cellink NEO Battery Pack.
BlackVue Over the Cloud is a suite of innovative 'connected' features that takes your BlackVue experience to new levels - it unlocks the true power of your DR900X Plus and remotely connecting you with your vehicle.
Connect to your DR900X Plus dash cam anytime, from anywhere, and check on your car with Remote Live View. Play recorded video clips remotely and back-up important ones to the Cloud or your phone. Monitor progress and access location data, GPS logs and Driving Reports courtesy of the realtime Live Tracking feature. Even broadcast Live to Facebook and YouTube.

All you need is the free BlackVue App and a mobile internet connection, such as the optional BlackVue CM100 LTE 4G connectivity module and data SIM. The CM100 LTE is compatible with SIM cards from the following network carriers (including their MVNOs): AT&T, T-Mobile, Telus, Rogers and Bell.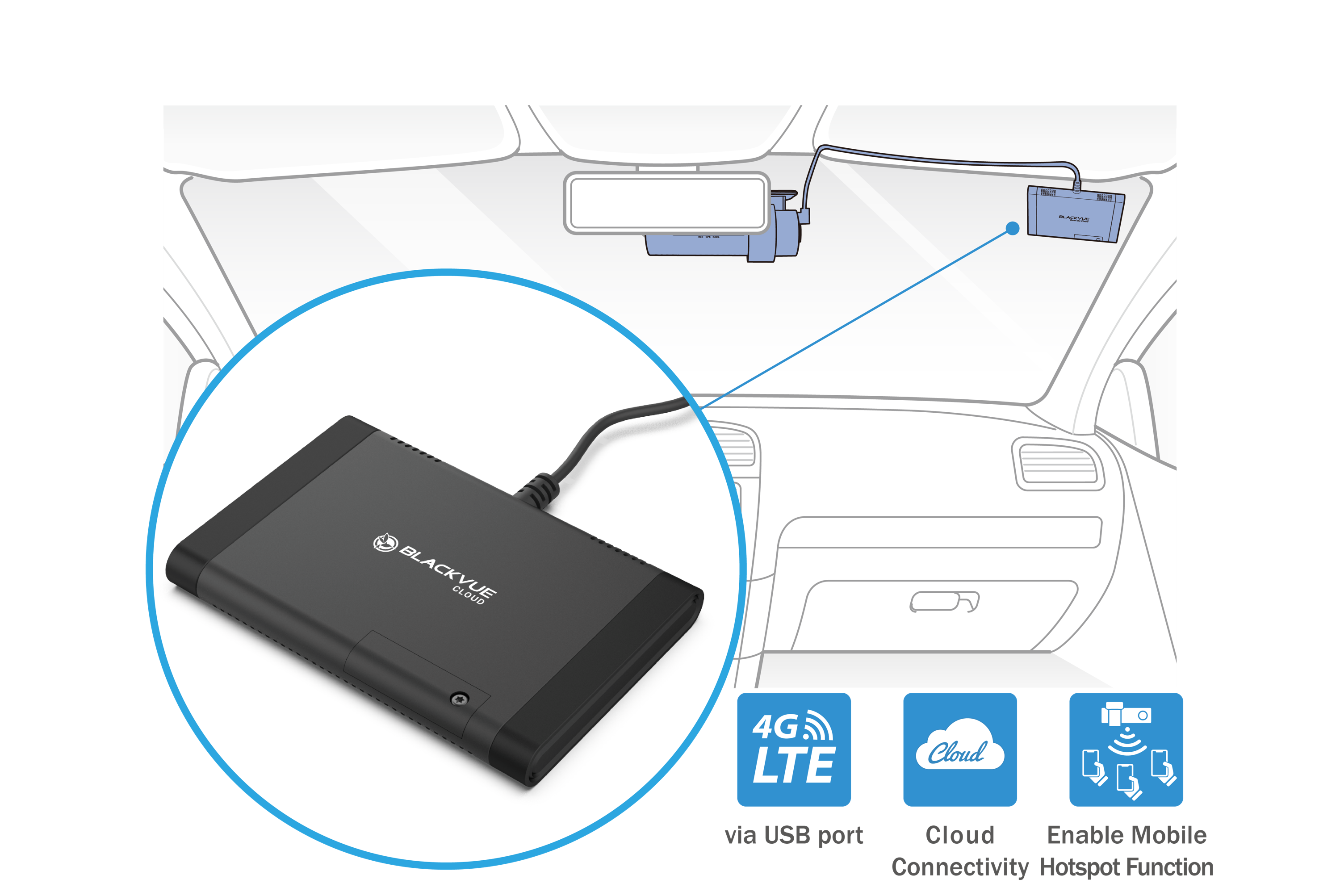 NEW: Seamless pairing using built-in Bluetooth

Previously, connecting your BlackVue dash cam to the Cloud was a multi-step process. But now, with Seamless Pairing, the whole process is straightforward - you no longer need to connect to the camera's WiFi on your phone, then open the BlackVue mobile app, and then connect the app to the dash cam.
Pretty much one tap from the inside of the BV app, and you're in. The app takes advantage of the built-in Bluetooth of the DR900X Plus to automatically create a WiFi connection between your phone and the dash cam - this process makes the initial pairing easier.
Once the initial pairing is done, all data transfers between the phone and the dash cam will be done over WiFi, including footage file transfer, syncing new camera settings, etc.
Seamless pairing is not a feature unique to the DR900X Plus. This feature is now available to their DR900X and DR750X series, DR750X Plus, DR750-2CH LTE. To activate this feature, you will need to update the dash cam firmware.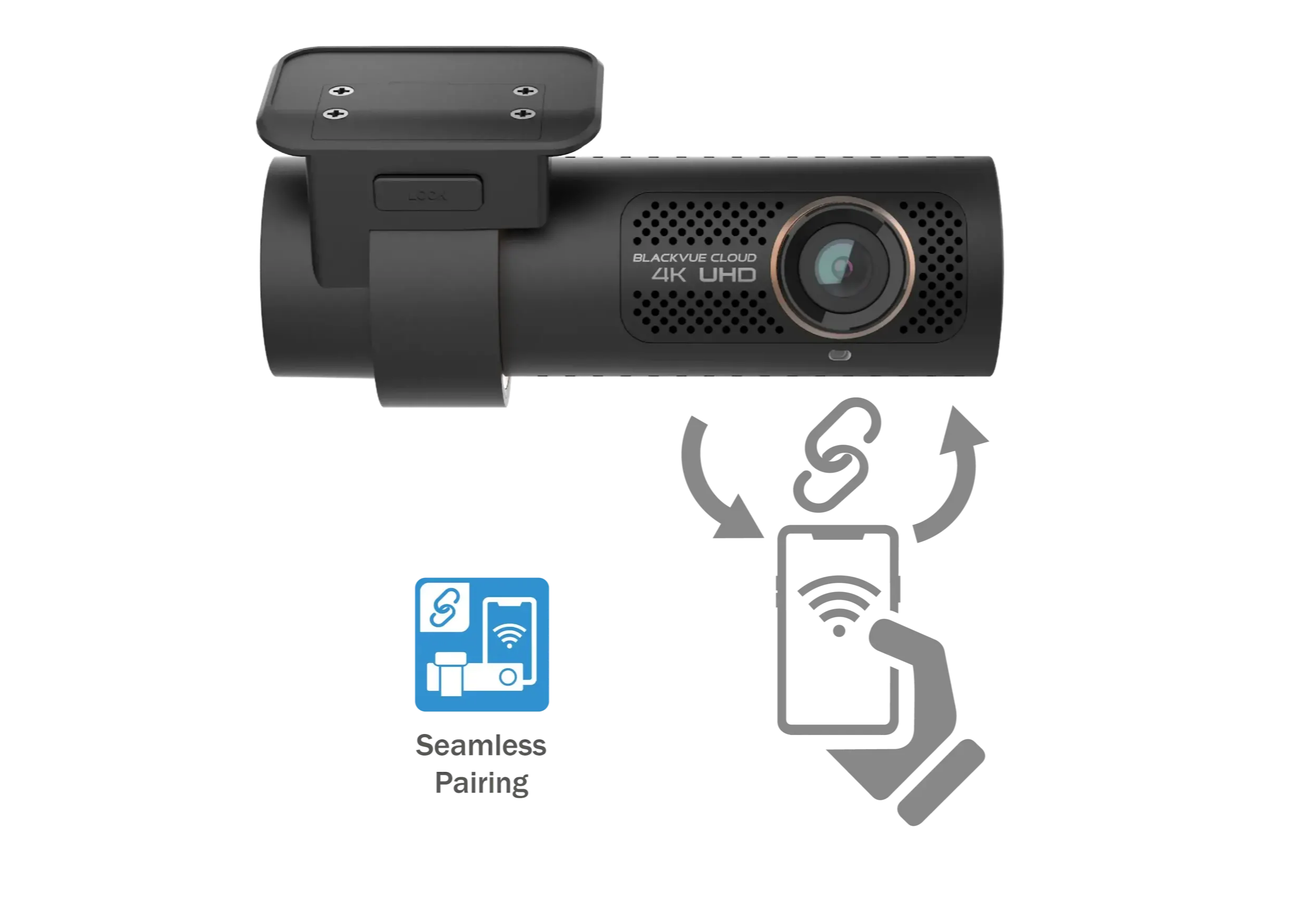 NEW: Mobile Hotspot Capabilities

Previously, your BlackVue dash cam could only share its internet connection with one extra device; now, the DR900X Plus can act as a WiFi hotspot for up to 5 devices in your car. This Mobile Hotspot feature comes in handy if you have more than one device that requires an internet connection, like additional dash cams, radar detectors, smartphones, etc. You will need the optional CM100 LTE module to use the Mobile Hotspot Function.
Do keep in mind that the default is 5Hz, so if your device only supports 2.4Hz, you will need to make the settings changes in the BV app.
Upgrading to the BlackVue DR900X Plus

If you are looking to upgrade to the DR900X Plus from an older BlackVue model, here's what you need to know in terms of cables and accessories compatibility.
Can I reuse these cables and accessories?