FineVu GX1000 vs. Nextbase 422GW Dash Cam Review
Nextbase and FineVu are both multi-award winning dash cam brands that have been on the market for over two decades. Nextbase has the 422GW in its 2K dash cam lineup, while FineVu has the GX1000. In this review, we'll see which of these two dash cams deserves to be recognized as the tech-packed 2K dash cam that smart feature and image quality enthusiasts will undoubtedly want to get for their cars.
Nextbase 422GW: Image Quality and Video Recording Capabilities

Available in BlackboxMyCar, Nextbase 422GW records the road ahead in 2K QHD at 30FPS - 2 times the number of pixels than Full HD, so your images are sharper and you zoom in without losing quality.
It uses an improved 6G glass lens and has the option of recording at 1080p (60fps) and 720p. With its upgraded version, the Nextbase 522GW, the footage is clearer due to the built-in polarizing filter.
What are the Features Highlight of the Nextbase 422GW?

Built-In Alexa for Intelligent and Handsfree Mode
The Nextbase 422GW is the first 1440p dash cam with Alexa, allowing you to record important footage while keeping your hands on the wheel and eyes on the road. You can use your dash cam to ask Alexa to play music, check the weather, find directions, and more using voice controls. Alexa can also take a picture, send video to your phone, start or stop recording, and protect your files.
Nextbase Emergency SOS, the world's first dash cam with an emergency response system, is another new innovative feature on the Nextbase 422GW and the 522GW as well.
In the event of an accident, an alert with your location can be sent to emergency services. The alert can send vital medical information such as blood type and medical history to help with efficient treatment.
The 422GW also has Bluetooth 4.2, which automatically sends crash footage to your Bluetooth-enabled phone, QuickLink Wi-Fi for video transfer, and a higher accuracy GPS module for accurate speed and location data.
All the convenient features mentioned are also available in its upgraded model, the 522GW.
Click&Go PRO mount in every kit
For a more convenient installation, every purchase also comes with a new Click&Go PRO car mount, which is also available in the 522GW. The newly designed mount has a lower profile design and high strength neodymium magnets, allowing you to install and remove the dash cam with one hand.
Does the 422GW have an App?

Although the Nextbase 422GW and even the 522GW have screens measuring 2.5 inches and 3 inches respectively, Nextbase still managed to build a mobile app for easier access. MyNextbase Connect™ is an easy-to-use app that will enable you to effortlessly manage and share your videos, edit clips, and check for and install firmware updates.
It also has MyNextbase Cloud: Nextbase's free online video sharing service where you can store your files safely and securely. Drivers can use the 'Share Video' function on either MyNextbase Player or the MyNextbase Connect app to upload your file to the Nextbase Server. As an added bonus, you will be able to password-protect your video.
Review: FineVu GX1000 2K Dual QHD Dash Cam

The FineVu GX1000 dash cam, released in December 2022, competes with the Nextbase 422GW and 522GW by also delivering 2K QHD image quality, while boasting convenience and safety features for the driver and passenger's peace of mind.
Image Quality and Video Recording Capabilities

One of the most significant improvements to the GX1000 is its image quality. The FineVu GX1000 has 5.1MP Sony Exmor R STARVIS image sensors in the front and another set of 5.1MP in the rear camera. Unlike the Nextbase models, the GX1000 includes a rear camera that does not need to be purchased separately - which is quite a huge cost to add for the 422GW and 522GW.
The GX1000 captures excellent 2K QHD @ 30FPS video, aided by HDR and Auto Night Vision, which optimize video quality by automatically tuning to deliver bright images in low-light and high-contrast environments.
What are the safety and convenience features of the FineVu GX1000 2K dash cam?

While the Nextbase 422GW and 52GWW are equipped with smart features like the built-in Alexa for hands-free controls, and emergency SOS in the event of an accident, the FineVu GX1000 also launches intelligent convenient security solutions that will make the driving experience easier and safer.
AI Smart Temperature Monitoring

While some dash cams easily shut down when exposed to hot regions and temperatures, the FineVu GX1000 ensures that it will continue to do its job even if it becomes hot.
The FineVu GX1000 is designed to withstand high temperatures in hotter climates, constantly monitoring the ambient temperature and switching to Power Saving Mode if extreme heat is detected. This function ensures that you get to maximize your Parking mode feature, while also prolonging your device's life.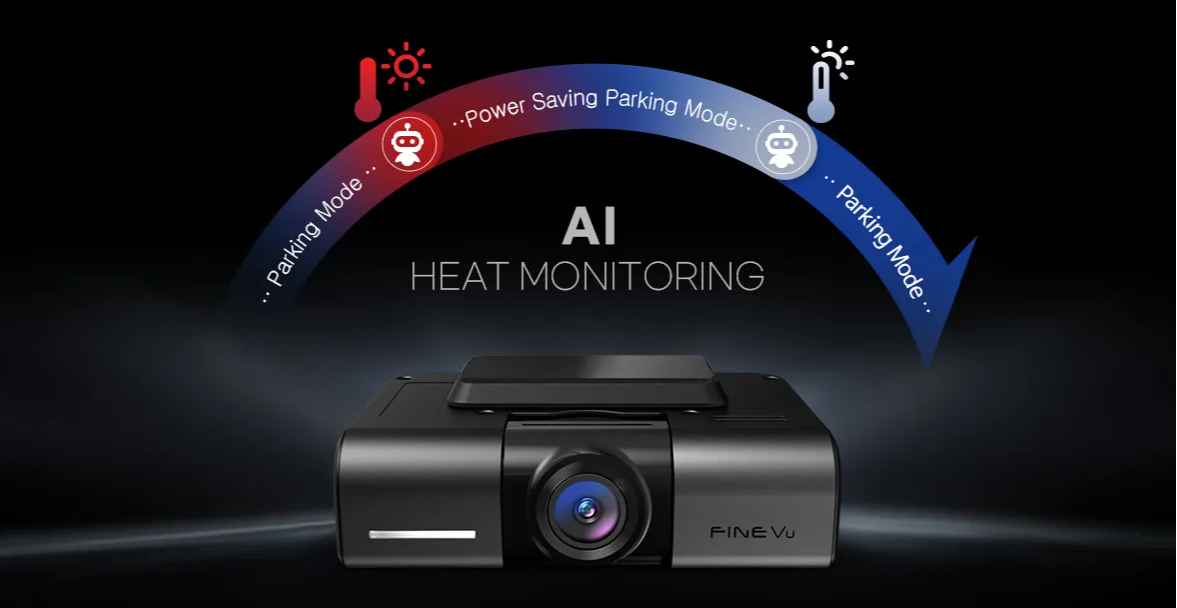 The AI Damage Detection 2.0 is useful for security, especially when the car is unattended, and it can also help you determine which specific areas of your car require attention.
In the event of an impact, AI Damage Detection uses machine learning technology and sensors to automatically scan the entire vehicle body structure. The damaged area is divided into eight directions and the impact size levels are reported.
When you get back into your car and start the engine, the GX1000 will notify you of the collision, and the WiFi app will show you which area was most likely hit as well as a video clip of the incident.
Above this new feature, the GX1000 also includes the number of safety features in the GX300, such as an Advanced Driver Assist System (ADAS), Speed Camera Alert and Driving Rest Guide.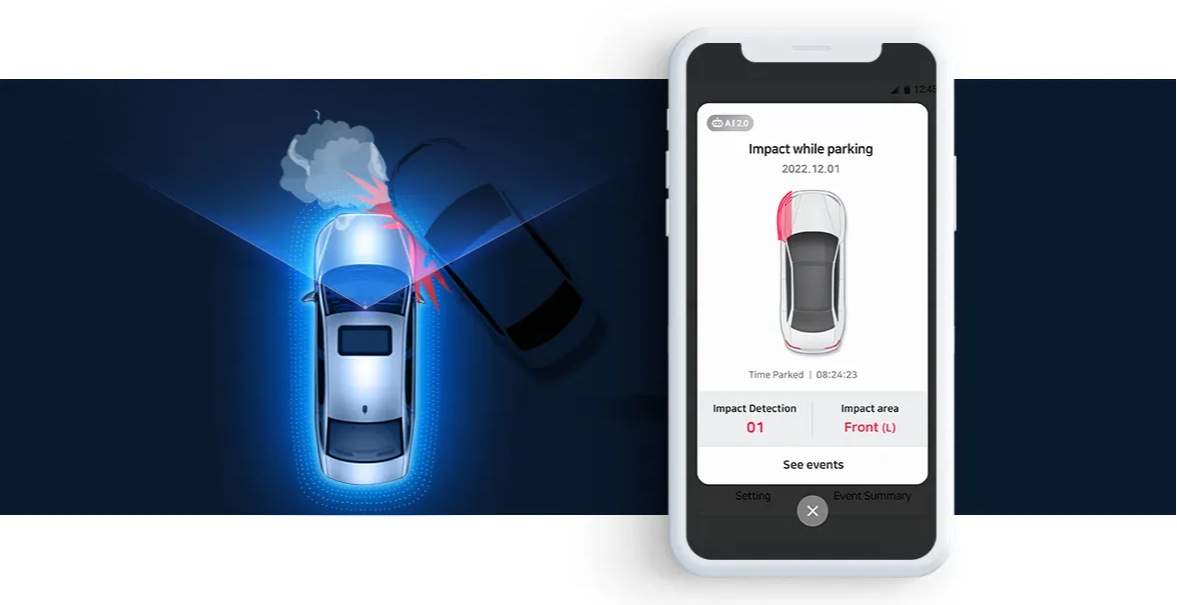 The GX1000's Smart Time Lapse feature allows you to save more footage on your microSD card. When an event is detected, the recording frame rate is automatically reduced to 6 frames per second before returning to 30FPS full frame rate to ensure that the event is properly captured while tripling, if not quadrupling, the storage capacity on your microSD.
Giving you a seamless communication experience wherever you are, the FineVu GX1000 is designed to support nine languages, including English, French, Spanish, Korean, Japanese, Vietnamese, Polish, Russian, and Dutch. The FineVu mobile app will auto-detect the language used on your smartphone and change the app language so you don't have to fiddle around with the app settings to find the language you need.
Does the FineVu GX1000 have a mobile app?

The GX1000 is built compactly and lacks a screen. Because of the built-in FineVu WiFI connectivity, video playback will be viewed on the app, which is more convenient and hassle-free.
Aside from playback, you can also use the app to download and share videos, as well as access the settings configuration. FineVu also enhanced the user experience by including low voltage shut off features, anti-flicker, and new 15 fps settings, all of which are controllable via a phone app.
Product Comparison: Nextbase 422GW vs. FineVu GX1000

2K QHD @30FPS | 2K QHD @30FPS
Sony STARVIS 5.1 MP in front + 5.1 MP at rear
2K QHD for front, 4MP camera, Night Vision, Bluetooth, Wi-Fi, Nextbase app, My Nextbase Cloud, Click&Go Pro Mount, Emergency SOS, Built-in Alexa, GPS, Parking Mode
2K QHD and 5.1 MP Sony STARVIS image sensors for both front and rear cameras, Night Vision, Smart Time Lapse Feature, Voice Controls, Heat Resistance, Free Samsung 32 GB sd card, FineVu app, Parking Mode, Speed Camera Alerts, Driving Rest Guide, Free Hardwiring and Cigarette Cable, Wi-Fi, GPS, AI Damage Detection 2.0, AI Parking 2.0, 1-CH recording, Power Saving Parking Mode, Bitrate Control
Verdict: Nextbase 422GW vs. FineVu GX1000 2K Dash Cams

In terms of user convenience, the Nextbase 422GW knows how to impress with its tech. With the built-in Alexa that is useful for controlling your dash cam hands-free, the driver can ultimately focus on the road ahead which increases its safe driving level.
The emergency SOS is also a smart feature, along with the Bluetooth, Wi-Fi, and GPS capabilities. These are also present in the Nextbase 522GW, which is an upgraded version of the 422GW - only bigger and equipped with a new polarizing filter.
Overall, it's a good choice, although the package only comes with the main dash cam. If you wish to avail a rear camera, you have to buy it separately. If you want smart features, but also prioritize value for money, we recommend the FineVu GX1000 to you.
The FineVu GX1000 is the first FineVu dash cam that offers 2K QHD in front, and 2K QHD at the rear cam. Not only does it offer high-quality videos, but also all-around vehicle surveillance. The innovative features such as the AI Damage Detection and AI Smart Temperature monitoring are beneficial if you want to prolong the life of your device.
Moreover, a purchase of the FineVu GX1000 also includes a FREE 32 GB micro SD card and a hardwiring kit to maximize the parking mode capabilities. The FineVu app is also easy to use, making the user experience simple yet intuitive.