Escort Max 360C Radar Detector
Save

$100.00 CAD
Original price
$1,049.99 CAD
Current price
$949.99 CAD
Item on backorder - ETA end of July 2022
Radar detector orders may take 4-6 business days to fulfill before shipping out.
The ESCORT MAX 360C is the first radar detector to offer a driver alert system that pairs directly to the vehicle's WiFi (2.4GHz only). Through the ESCORT Live app, connect with more than 3.5 million users who generate over 8 million alerts per month.
With its front and rear dual antennae design, the Max 360C offers true 360 degree protection against all ticket threats on the road. The multi-directional arrows quickly indicate the direction of the threat giving the driver plenty of time to slow down. The Max 360C can easily be updated to the latest software and firmware when connected to a WiFi network that eliminates the need to remove the radar detector from the vehicle.
In Canada, radar detectors are entirely street legal within the provinces of British Columbia, Alberta and Saskatchewan.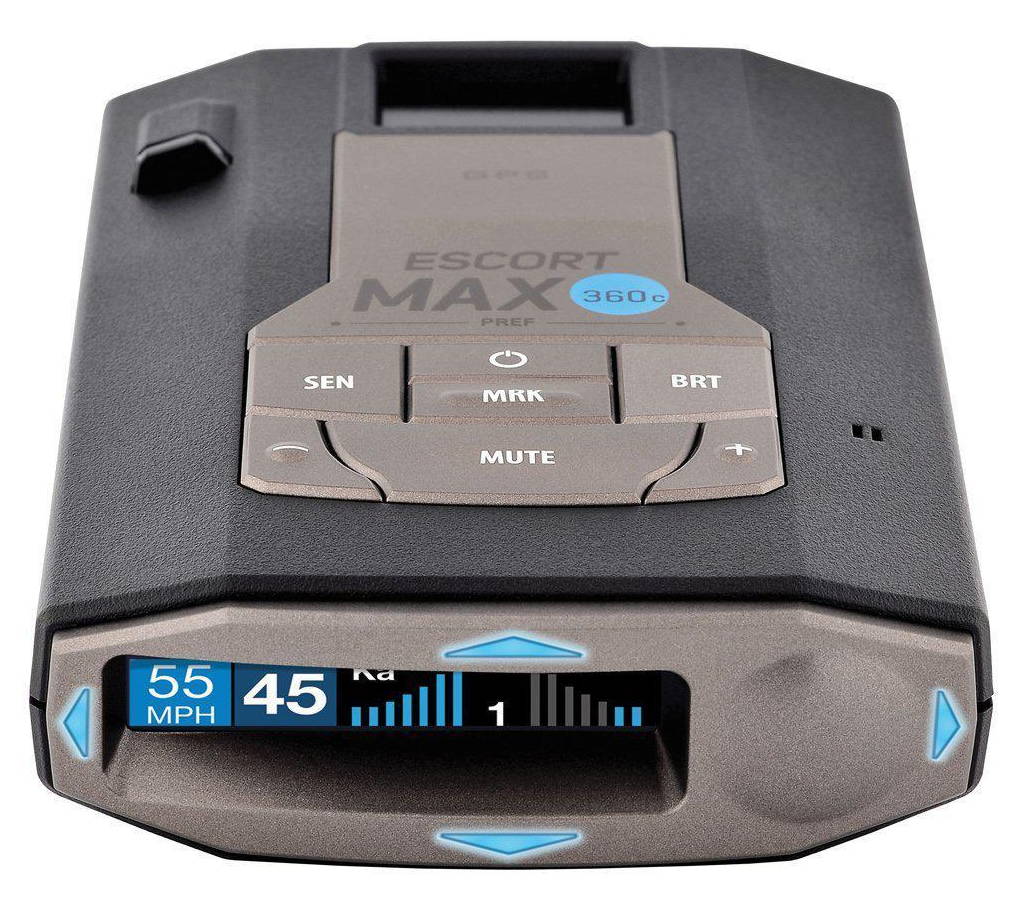 With over 40 years of industry leading performance, the MAX 360C offers state of the art features.
Directional Alert Arrows
Arrows indicate the direction of the threat
Defender Database
Receive alerts for red light and speed camera locations
Autolearn Technology
GPS-powered AutoLearn Technology intelligently rejects false alerts
Lightning Fast Response
Digital signal processing offers extreme range and lightning fast response
Connected Car Compatible
Connected Car's WiFi provides crowd sourced alerts & software updates
Escort Live App
Get access to crowd sourced alerts through bluetooth connectivity
X-band 10.525 GHz ± 25 MHz
K-band 24.150 GHz ± 100 MHz
Ka-band 34.700 GHz ± 1300 MHz
Laser 904nm, 33 MHz Bandwidth
Quantum Limited Video Receiver
Graphic Multi-Color OLED
Bar Graph
ExpertMeter
SpecDisplay
5 Levels of Brightness with Full Dark Mode
Radar Receiver / Detector Type
Superheterodyne, Varactor-Tuned VCO
Scanning Frequency Discriminator
Digital Signal Processing (DSP)
Highway, Auto, Auto No X, Auto Lo K
12VDC, Negative Ground
Escort SmartCord USB Included
User Mode: Advanced / Novice
Pilot: Scanning Bar / Full Word
Arrow Mode: Single / Multiple / Band
Display Color: Blue/Green/Red/Amber
Speed Display: On / Off
Cruise Alert: Off / 20 – 160 mph
Over Speed: Off / 20 – 160 mph
Over Speed Limit: Off / Spd Limit / 5 over / 10 over / 15 over / 20 over
Meter Mode: Standard/FR1/FR2/Spec/Expert/Simple
Tones: Standard / Standard+ / Mild
AutoMute: Low / Med / High / Off
AutoLearn: On / Off
Units: English / Metric
Language: English / Spanish
Voice: On / Off
GPS Filter: On / Off
Auto Power: Off / 1-8 Hours
Bands: X/K/KN1-KN4/Ka/KaN1-KaN10/Ka-POP/Laser/TSR
Markers: Other/RedLight/RedLight & Speed Cam/Speed
Cam/Speed Trap/Air Patrol
Clear Locations: Marked/Lockouts/Defender/Format
Wi-Fi: On / Off
Bluetooth: On / Off
Auto Update: Off/Database/Firmware/All
Perform Update: Firmware/Database
Samples, Reviews & Comparisons

Stay tuned for our review.
Subscribe to our YouTube channel for the latest news, reviews, and guides.
Max 360C Radar/Laser Detector
EZ Mag Mount
SmartCord Power Adapter
Quick Reference Guide
Soft-Shell Case
What is a Radar Detector?
Radar Detector is a device that detects invisible radar waves that are used to get a speed measurement of your vehicle. When the radar detector is triggered by the invisible radar waves, an audio and visual alert is set off for the driver to slow down to avoid speeding tickets.
What are false alerts on a Radar Detector?
False alerts are when the radar detector picks up on radar signatures not from a police officer. Two common types are stationary and moving false alerts.
What are the differences between a Ka, K, and X bands?
X Band radar waves fall between 8.0ghz and 12ghz. Law enforcement X band radar guns operate universally on 10.5ghz.
K Band radar waves fall between 18ghz and 27ghz. Police K band radar operates strictly at 24.125ghz and 24.15ghz.
Ka Band radar waves fall between 33.4ghz and 36.0ghz. With very few exceptions, if your radar detector alerts a Ka band, you can be sure there is a legitimate threat ahead or behind you.
What is MRCD or MultaRadar CD?
MultaRadar is a brand new threat to drivers across North America. Unlike traditional technology, MultaRadar does not operate at just one frequency which renders many old radar detectors obsolete from detecting MultaRadar.
What is the return policy?
We fully stand behind our products and are absolutely confident that they will meet and exceed your highest expectations. However, within 30 days of purchase, if you are unhappy with your unit or if you simply wanted to try out a dash cam, we will refund your money. No questions asked. For more details, click here.
Great price and super fast shipping
Couldnt be happier with max 360c, paired with a blendmount it's perfect. Great place to purchase it from. Super fast shipping. 5 stars
Great Detector
Very nice product. Does what it is designed to do effectively .
Hi Harry, thanks for leaving a review!
360 Escort
Works perfectly already saved me a few tickets
Hi Vince, thanks for leaving a review. Don't forget to drive safely on the road!