Cobra Road Scout 2-in-1 Radar Detector and Dash Cam
Best Price Guaranteed or We'll Match It
Radar detector orders may take 4-6 business days to fulfill before shipping out.
Cobra Road Scout 2-in-1 Radar Detector & Dash Cam

The Cobra Road Scout offers an innovative 2-in-1 driver alert solution. Designed with intelligent sensors that monitor and detect road threats combined with a 1080p Full HD dash cam so you can relax and drive with confidence.
The Cobra Road Scout is the first 2-in-1 radar detector and dash cam system by Cobra Elite. With intelligent, long-range radar/laser detection designed to scout road threats ahead, ability to lock out false alerts, a GPS database with location-based alerts, including red light and speed cameras, the Road Scout delivers - big.
The Road Scout also allows you to capture the road ahead in crystal clear 1080p Full HD. Equipped with a Sony STARVIS image sensor, the dash cam is optimized for day or night recording. Other features include G-Sensor impact detection and continuous loop recording, as well WiFi-enabled so you can view and share your videos using the Cobra Drive HD smartphone app.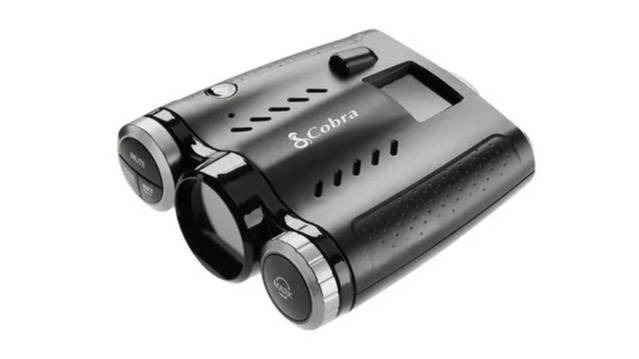 With over 40 years of industry leading performance, the MAX 360C offers state of the art features.
Reduces false alerts from in-vehicle technologies but retains sensitive detection
Built-in Defender Database

Receive alerts for red light and speed camera locations
High performing driver alert system with intelligent radar and laser sensors
Real-time crowd sourced speed trap notifications, with preloaded red light and speed camera location
Reinforced design to withstand extreme temperatures
Share and receive real-time driver alerts from the Cobra driving community
Crystal clear 1080p Full HD with a 154° field of view.
High-quality image processor captures crystal clear video in 1080p FHD with a 154° field of view
Continuous Loop Recording

Never miss a moment with continuous video recording
Equipped with Sony STARVIS image sensor for optimal day and night recording
G-Sensor Impact Detection

G-sensor auto detects any impact to the vehicle
View and share your videos using the Cobra Drive HD smartphone app.
X-band 10.525 GHz ± 25 MHz
K-band 24.150 GHz ± 100 MHz
Ka-band 34.700 GHz ± 1300 MHz
Laser 904nm, 33 MHz Bandwidth
Graphic Multi-Color OLED
Bar Graph
Frequency Display
5 Levels of Brightness with Full Dark Mode
Radar Receiver / Detector Type
Superheterodyne
Digital Signal Processing (DSP)
Highway, Auto, Auto No X, Auto Lo K
12VDC, Negative Ground
SmartCord USB Included
Hold SEN and BRT buttons to open the Menu
Rotate the Volume Ring to change the selected Menu item
Blue | Green | Red | Amber
Off | Spd Limit | 5 over | 7 over | 10 over | 15 over | 20 over | 25 over
X | K | KN1-KN4 | Ka | KaN1-KaN10 | Ka-POP | Laser | TSR | RDR
Marked | Lockouts | Defender | Format
Press MARK to delete all locations you have saved
Yes (1, 3, or 5 minute lengths)
Cobra Drive HD (Android/iOS app)
1-Year Manufacturer Warranty
Samples, Reviews & Comparisons

Stay tuned for our review.
Cobra Road Scout Radar Detector/Dash Cam
EZ Mag Mount
16GB micro SD Card
SmartCord® USB
Micro USB Cable
Carry Case
Quick Start Guide
What is a Radar Detector?
Radar Detector is a device that detects invisible radar waves that are used to get a speed measurement of your vehicle. When the radar detector is triggered by the invisible radar waves, an audio and visual alert is set off for the driver to slow down to avoid speeding tickets.
What are false alerts on a Radar Detector?
False alerts are when the radar detector picks up on radar signatures not from a police officer. Two common types are stationary and moving false alerts.
What are the differences between a Ka, K, and X bands?
X Band radar waves fall between 8.0ghz and 12ghz. Law enforcement X band radar guns operate universally on 10.5ghz.
K Band radar waves fall between 18ghz and 27ghz. Police K band radar operates strictly at 24.125ghz and 24.15ghz.
Ka Band radar waves fall between 33.4ghz and 36.0ghz. With very few exceptions, if your radar detector alerts a Ka band, you can be sure there is a legitimate threat ahead or behind you.
What is MRCD or MultaRadar CD?
MultaRadar is a brand new threat to drivers across North America. Unlike traditional technology, MultaRadar does not operate at just one frequency which renders many old radar detectors obsolete from detecting MultaRadar.
What is the return policy?
We fully stand behind our products and are absolutely confident that they will meet and exceed your highest expectations. However, within 30 days of purchase, if you are unhappy with your unit or if you simply wanted to try out a dash cam, we will refund your money. No questions asked. For more details, click here.
Love it
This is the best detector and camera I've had in my car I love it. The shipping and all that was great and the product was awesome
Hi Jeffrey, that's good to hear. Thanks for leaving a review - glad you love the Cobra Road Scout!