VIOFO A229 vs. DDPAI X5 Pro

No Blur at High Speed - How Much Do You Need It?
Dash cams introduced this 2022 have made significant upgrades in terms of image and video quality. Just like how smartphones and TVs are bringing visuals to a reality feel, dash cam videos are now sharper, clearer, and even create a cinematic experience as well.
But apart from being more pleasing to the eye, these upgrades are also useful in terms of surveillance and capturing evidence. Before, low-quality dash cams can record the event, but license plates and road signs were in a blur that's why there are times when it's still a challenge to justify.
Today, we're going to look at two dashcams that have leveled up in capturing details and recording footage - the DDPAI X5 Pro and the all-new VIOFO A229. Let's find out which of these two would make a better photographer, and witness for you.
Image Quality and Recording Capabilities

The DDPAI X5 Pro is a dual-channel dash cam equipped with a 2160P 4K recording front camera and a 1080P rear camera. At 3840 x 2160 @ 30 frames per second, the X5 Pro ensures an ultra-sharp and crisp image and video resolution - making it the best, and most expensive DDPAI dash cam to date.
Boasting an 8MP Sony IMX 415 sensor combined with a 7 optical lens and an F1.8 aperture, this dash cam can shoot crystal clear footage of the driving period, including license plates and traffic signs.
Moreover, it can also record 1080P@90fps with no high-speed motion blur. This means you can capture important details of the roads, vehicles, and people not only on highways and streets but also on car racing and drifting events.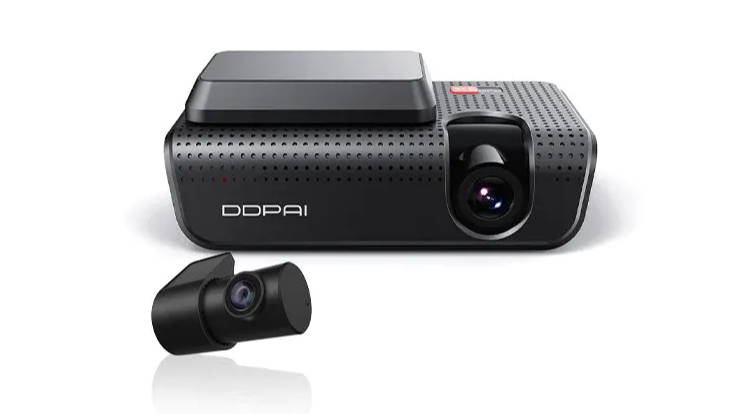 Does the DDPAI X5 Pro have Night Vision?

DDPAI advances the game with its NightVIS technology, inspired by the Sony STARVIS night vision tech to provide the best capture in dark and bright situations. It also sported Realcube Image Technology and customized algorithm models to enhance the clarity of dash cam videos by adjusting color calibration, brightness, contrast ratio, and resolution.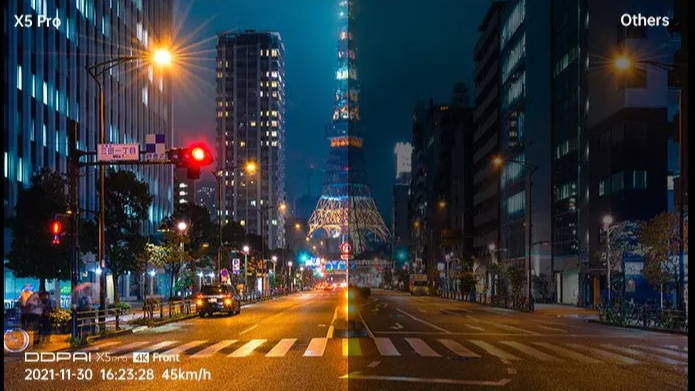 Does this dash cam have GPS?

The X5 also has a Galileo system, which achieves position accuracy via GPS, BDS, and GLONASS. Its 6-axis adjustable G-sensor also detects a sudden shock or collision and automatically records driving incidents, locking 10 seconds of video in a separate folder for security.
It also includes an Advanced Driver Assistance System (ADAS), which allows drivers to accurately recognize their surroundings, improving the safety of the driver, passengers, vehicles, and pedestrians.
The X5 Pro dashcam easily connects to the DDPAI App and comes with built-in 5G Wi-Fi for faster downloads and data. You can also use your smartphone to playback, download, and share footage and adjust settings directly from the APP.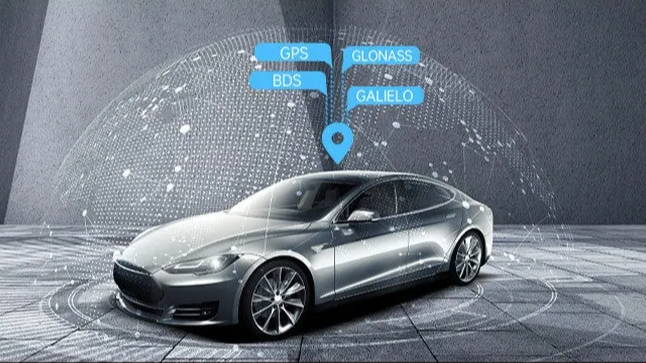 VIOFO A229 Duo Dash Camera Review

Image Quality and Recording Capabilities


The A229 is VIOFO's best dash cam entry yet this year. Taking a big leap from the standard 1920x1080 resolution, the VIOFO A229 dual-channel system now has front and rear cameras recording at 2560x1440 pixels, also known as 2K or Quad HD.
The captured images have more detail, thanks to the 5.14MP Sony STARVIS IMX335 image sensors, which are helpful for capturing a crisp and sharp view of the road ahead and traffic behind in broad daylight, or even when you're driving at night.
How does the A229 perform at high-speed?

The VIOFO A229 may not be as ultra-sharp as the X5 Pro in high-speed, but with its F1.6 aperture and WDR technology, you'll be able to excellently capture license plates and road signs enough for gathering evidence on necessary road circumstances. For a more enhanced display, VIOFO also offers a CPL (Circular Polarizing Lens) that can be used to reduce glare and reflections from glasses.
The larger 2.4-inch HD LCD screen display of the VIOFO A229 dash camera, as opposed to the VIOFO A129 Plus'  standard 2-inch screen, provides a more straightforward, effortless live preview and improves thermal dissipation and service life.
Is the A229 easier to install?

Instead of suction mounts, VIOFO included transparent Static Windshield Stickers in the package. This sheet also serves as a barrier between the sticky adhesive and your windshield glass, preventing residual marks when removing the dashcam - ideal for car rental, car share, and fleet use.
What cable type does it use now?

Its rear camera is slimmer, similar to Viofo's T130, and the wire connecting it to the front cam is now coaxed rather than USB, allowing it to be roughly half the diameter (2.8mm vs 5mm with the A129 Duo), making it much easier to install behind the trim panels of your car.
In order to accommodate other vehicle types with different installation approaches, the VIOFO A229 now includes a reversible USB-C charging cable and two USB-C power ports, one on the left side of the front camera and one on top of the GPS module.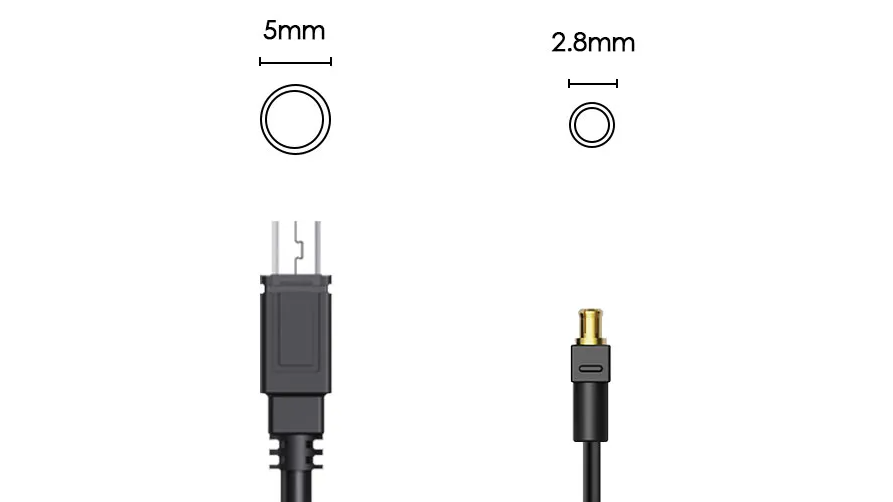 What are the A229 Duo security features?

The VIOFO A229 also has a built-in GPS that can track your location, speed, and time throughout your journey and stamp it on playback videos for added security. The A229 is also equipped with three advanced parking modes to help drivers capture complete evidence while parking: Auto Event Detection, Timelapse, and Low Bitrate Recording.
To maximize the event detection features, you can do a hardwiring installation with VIOFO's HK4 hardwire kit, which allows it to draw power from the car's battery even when the ignition is turned off. This has a slider that allows you to select the voltage at which it should cut off to avoid draining the battery.
In addition to "REC," "MIC," and "WiFi," two new LED indicators, "PWR" and "GPS," have been added to the front panel to make it easier to see the status of the camera and the functions that are active. It also has a built-in microphone and speaker for a better experience in audio recording.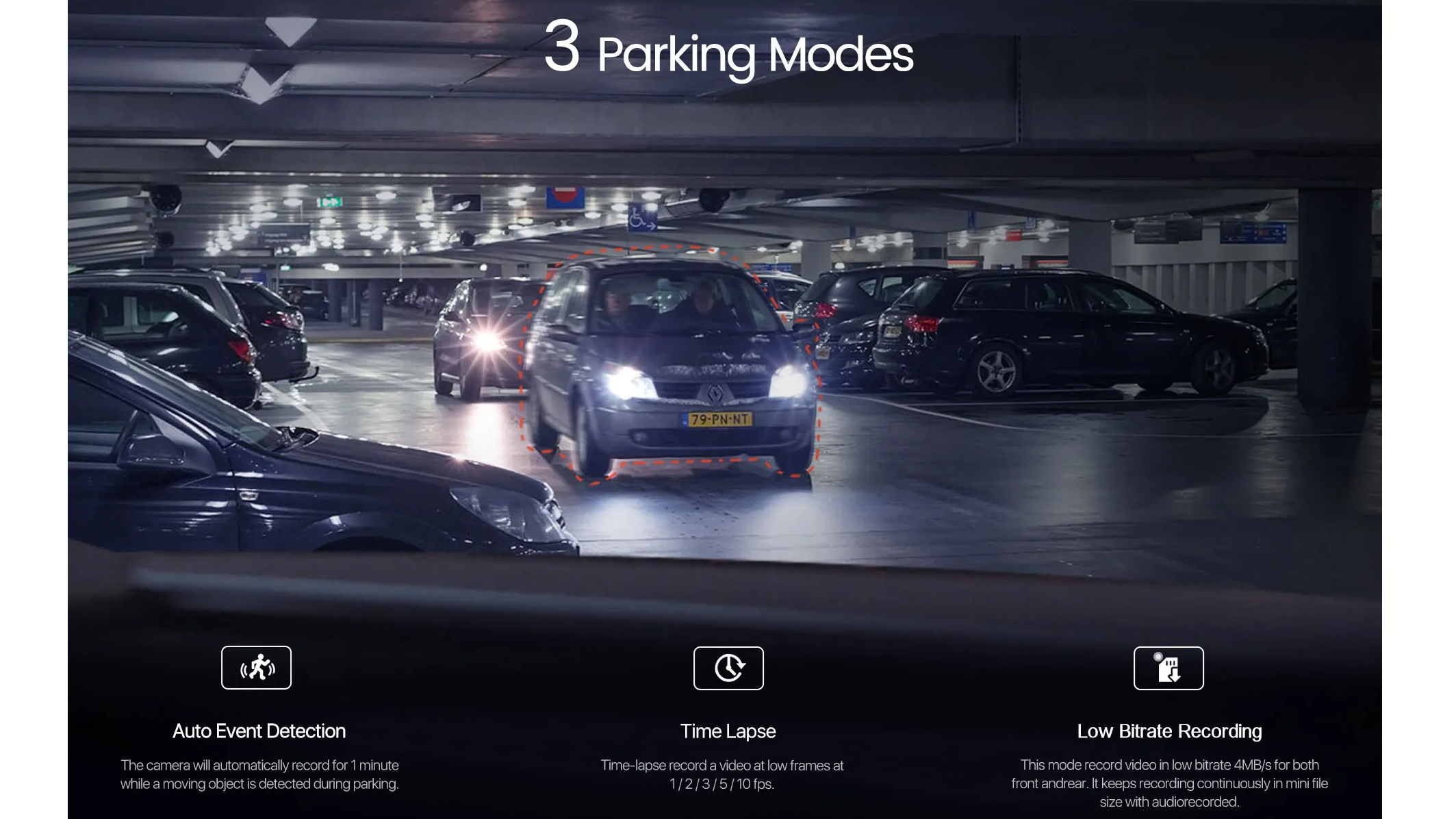 How strong is its built-in Wi-Fi connection?

Wi-Fi is dual-band on the VIOFO A229 dash cam. The Wi-Fi connection simplifies controlling and monitoring videos on your mobile phone with the VIOFO App. Furthermore, the A229 features upgraded 5GHz Wi-Fi connection technology that allows for transfer speeds of up to 8MB/s, which is four times faster than standard 2.4GHz Wi-Fi.
Verdict: 4K or 2K? Which Dash Cam is Better?

We couldn't deny that the image resolution of X5 is superb. With its 4K UHD and 8MP Sony STARVIS sensors, it can surely exceed expectations as it can capture license plates even when run on race tracks, as DDPAI claims. Its safety features are decent, but it's obvious that DDPAI focused on image quality when they designed the X5 Pro.
Because of this tech, the tag is relatively heavy for the pockets. If you think video recording at high speeds is something that you will need on a day-to-day basis, the X5 Pro is a good fit for you - if you're willing to spend above 400 bucks.
Unless you drive on racetracks every day, the VIOFO A229 is an outstanding option for its features and performance. It's more advanced than an array of dash cams in its class - but isn't built to break the bank.
If you're considering high-quality 2K and Quad HD captures, safety features, convenient installation, and ultra-fast Wi-Fi sharing and download capabilities for your convenience, we highly recommend the VIOFO A229 for you.
Shop with Confidence this Holiday season - BlackboxMyCar is the best place to get your VIOFO A229 and A229 Duo Dash Cam

With our Holiday Price Match now on, you're guaranteed Free 1-3 Days Shipping, Extended Returns, and the Best Black Friday Prices. Found a better price? We will match it, even after you've made your purchase - we will issue you an in-store credit for the difference.