What is Video Resolution and Why is it Important?
Let's start with the basics to get you informed
Video Resolution & Quality

Almost all dash cams in the market today have Full HD 1080p resolution. With prices ranging from $150-$450, actual video quality varies greatly between these dash cams. So, what exactly is 1080p and how is it different between different dash cams?
Full HD (full high definition) refers to 1080p image resolution or 1,920 (width) by 1,080 (height) pixels, which translate to about 2 million total pixels displayed. This shouldn't be confused with the term "HD" (high definition) because HD may be incorrectly used interchangeably with Full HD to describe a camera's resolution.
This can easily lead to confusion, as HD can also refer to standard high definition, or 720p. For clarity, you should know that the term HD mainly refers to 720p and Full HD refers to 1080p. 4K, lastly, refers to 2160p.
If you are uncertain of a display's image resolution based on the product description, look at the specifications to determine the actual image size.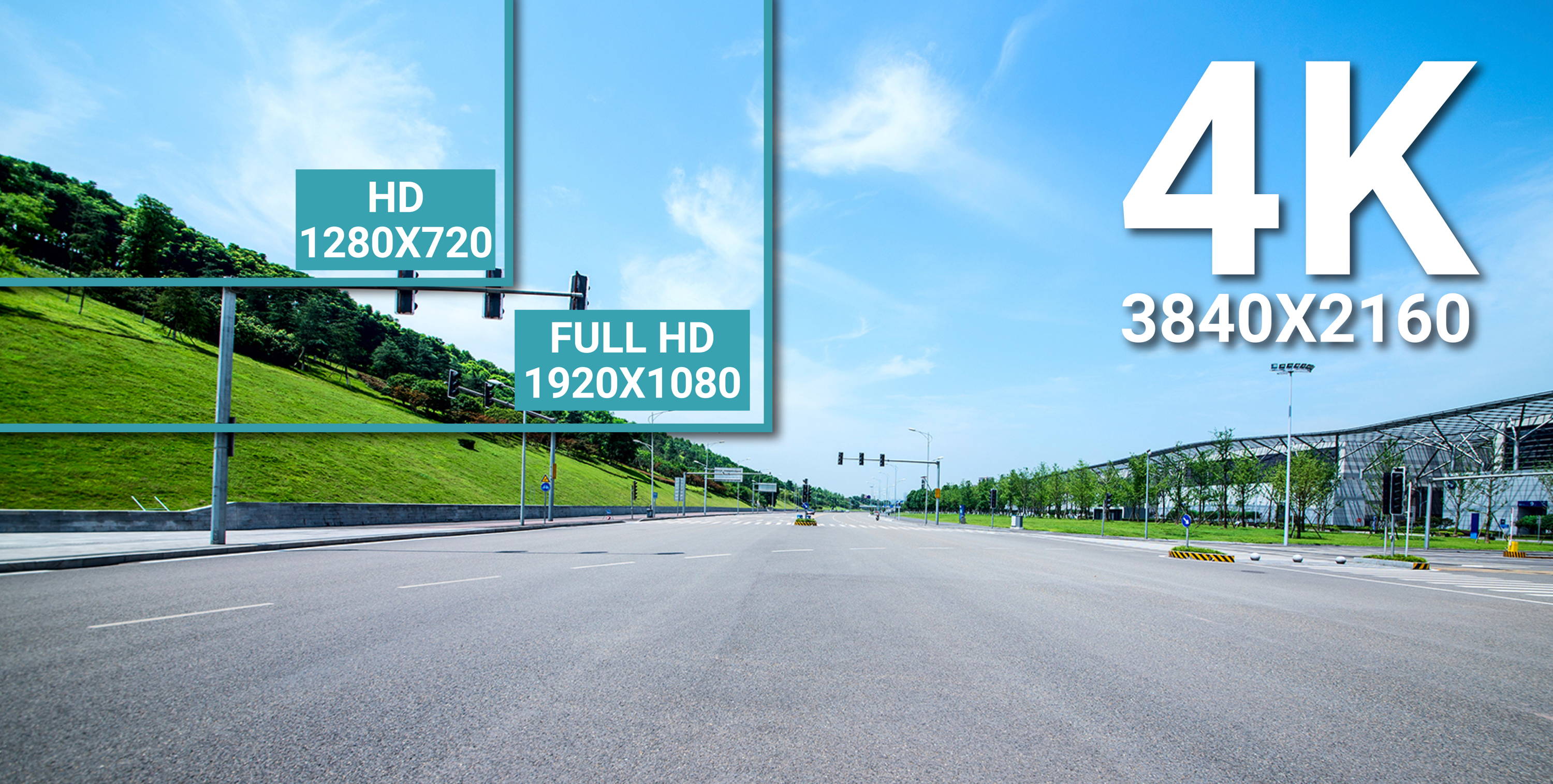 Note the difference between HD, Full HD and 4K video resolutions and the number of total pixels displayed.
The best way to compare the differences is to watch the videos in full screen with the highest video quality setting available.
It's the Inside That Counts

Despite multiple cameras advertising 1080p or Full HD, there are more aspects that determine "good" video quality. Video bitrate, which basically means the amount of information shown per second, is an important contributor to video quality. Most dash cams have bitrates from 8-15 Mbps.
Generally speaking, the higher the bitrate number, the higher the video quality. Video resolution, video lens size and quality, processing power and camera viewing angle are all important matters of video quality as well. For example, a Full HD 1080p dash cam that was released 2 years ago may not have the same video quality compared to a Full HD 1080p dash cam of the same price point in today's market. This is because there are improvements in hardware and software.
To compare, we can look at the BlackVue DR650S-2CH compared to the newer BlackVue DR750S-2CH. Both are rated as Full HD cameras, however, they both provide different quality footage. In the end the newer DR750S has the better video quality. Why? That would be because of the DR750S' better lens, bitrate and software. The DR650S boasts a 2.4mp Sony Exmor lens while the DR750S uses a 2.1mp Sony Starvis Lens.
Note the difference in video quality footage between the BlackVue DR650S-2CH vs the newer BlackVue DR750S-2CH. The best way to compare the differences will be to watch both videos at its 1080p quality on YouTube. Try the small details such as the clarity of the license plates.
Explore Our eLearning Guides

---
Not to fret, our in-house product experts are here to help. We have spent years curating helpful content and video guides, helping customers with their dash cams, but we understand that we can always do better. Contact us using the form below and we'll get back to you as soon as we can. We love what we do, because we're here to help you make the most informed purchasing decision.