Real 4K vs. Fake 4K Dash Cams
You guide in finding the genuine 4K dash cam for you.
A few years ago, drivers began using dash cams to record their trips for security. Today, one of the reasons people get a dash cam is to record their drives - and share them with friends and family on social media. Some people even use dash cam footage for vlogs.
Moreover, when the situation calls for it and you need sufficient evidence, even if you only need the video footage once, having high-quality, detailed video is essential. And having a 4K dash cam, with a resolution of 3840 x 2160P, has far more detail than 1080p video.
Things to consider when getting a 4K dash cam

The image sensor is the most important spec to look for when determining whether or not a dash cam is capable of recording true 4K video. To capture a true 4K video file, the image sensor must be at least 8MP.
Sony STARVIS image sensors

The three key imaging attributes of a dash cam are HDR (high dynamic range), high sensitivity, and high resolution - and we believe that Sony delivers these best with its image sensors.
Its STARVIS technology is designed to capture the faintest light in a dark place, such as a small alleyway without street lights, and convert this light into noise-less electrical signals - delivering an image of the target object through the realistic rendition of its shapes and colors.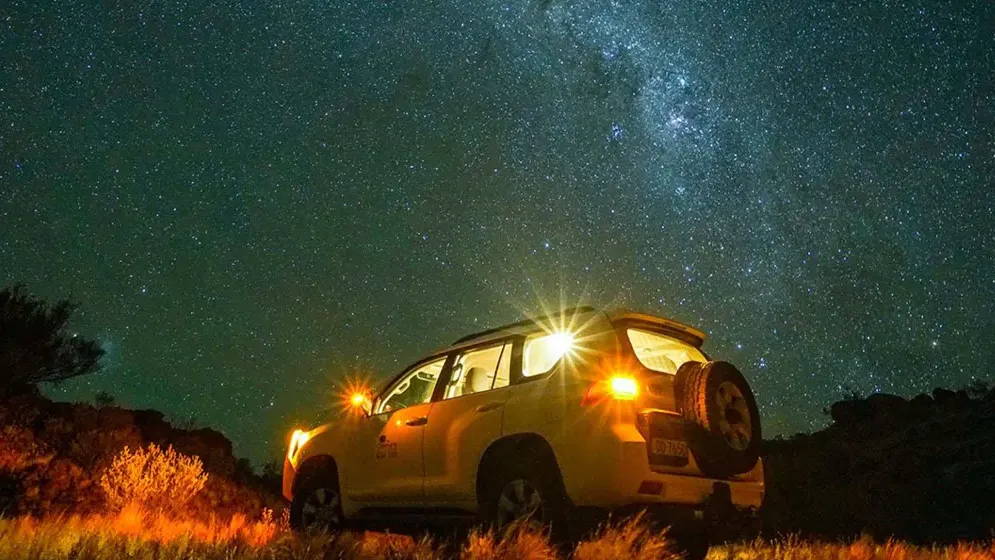 If you plan on purchasing a 4k dual-channel dash cam, make sure to check the video specs of the rear camera as well, as the rear camera will frequently have lower video quality.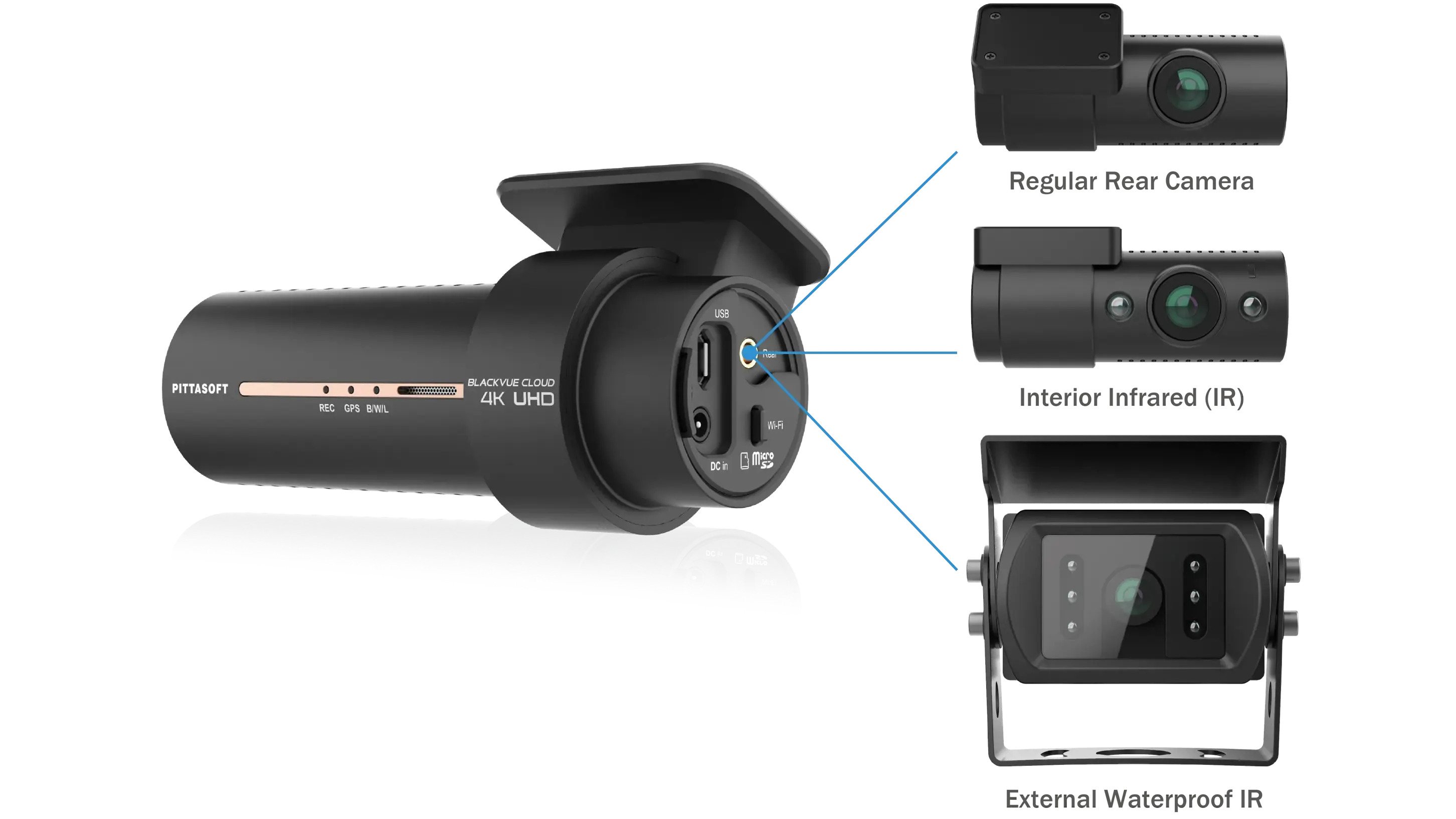 Because 4K video takes up more file space on the dash cam's microSD card, a larger storage capacity is recommended. We recommend a storage capacity of 64GB or greater.

The Rise of Fake 4K Dash Cams
Unfortunately, hundreds of fake 4K dash cams are currently for sale on online marketplaces like Amazon!
Again, a dash cam must have at least an 8MP image sensor in order to record true 4K video at 3840x2160p. On the other hand, the majority of these 4K wannabes only have 2MP or 4MP image sensors. They claim to be 4K because the video is resized to look like a 4K video file, despite the fact that it was not actually recorded at 3840 x 2160p.
A true 4K camera is one that can record at 2160p resolution and 30 frames per second (fps). It must be capable of doing so without using tricks like upscaling or interlacing video. These tricks severely degrade video quality and are not appropriate for a 4K dash cam.
How to tell the difference between real 4K vs. fake 4K
Without going into too much detail, there are a few ways to determine whether or not your camera is a genuine 4K camera.
4K cameras require a higher-quality sensor than 1080P cameras currently on the market. As a result, if your camera costs less than $100 USD, the chances of it being a fake 4K are higher, and you will most likely not get the results you were hoping for.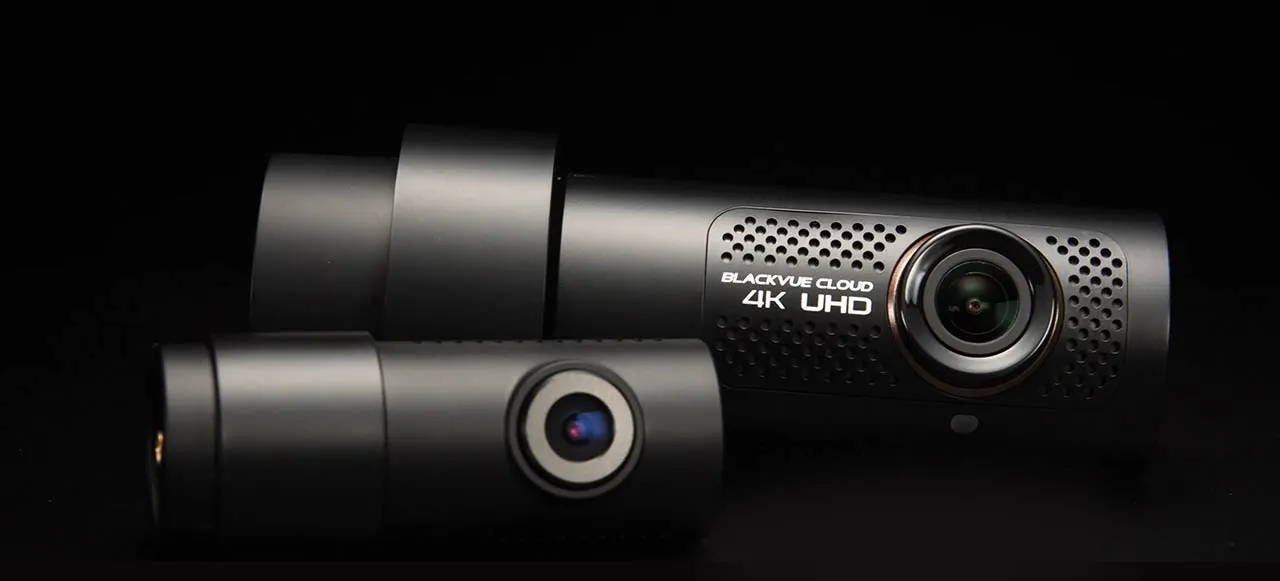 FPS such as 20FPS, 10FPS, and 15FPS are not accepted by Ultra HD standards. Normally, UltraHD has a frame rate of more than 30 frames per second. If your 4K camera claims to have a maximum frame rate of 24fps, it is most likely a scam!
If your 4K camera displays a resolution less than 3840x2160 pixels, it is most likely an upscaled camera. Only True 4K dash cams can capture images with a resolution of 3840x2160 pixels. It is worth noting that the output resolution of many standard 1080P cameras is 1920x1080 pixels.
The top-tier cameras should highlight the chipset they use, so you can tell if they're using one that will deliver the quality you're paying for. Processors like the Ambarella series, Hisilicon 3559 and Allwinner V316 are some of the trusted ones that can support 4K.
Beware of Fake 4k dash cams

Some dash cams that we discovered that provide fake 4K are Rove R2-4K and Rexing V1 4K UHD.
OmniVision OV4689 CMOS sensors power these cameras. According to their specifications, their 1/3-inch OV4689 (a small sensor in comparison to others) can capture full-resolution 4-megapixel high definition.
However, this 4MP does not imply that the video was recorded at 4K (3840x2160p), but rather that it could be recorded up to 2688x1520 (4085760 pixels = 4MP), which is only about 2K resolution.
So, in reality, you will only have a Full HD or 2K video that has been resized to 4K Ultra HD.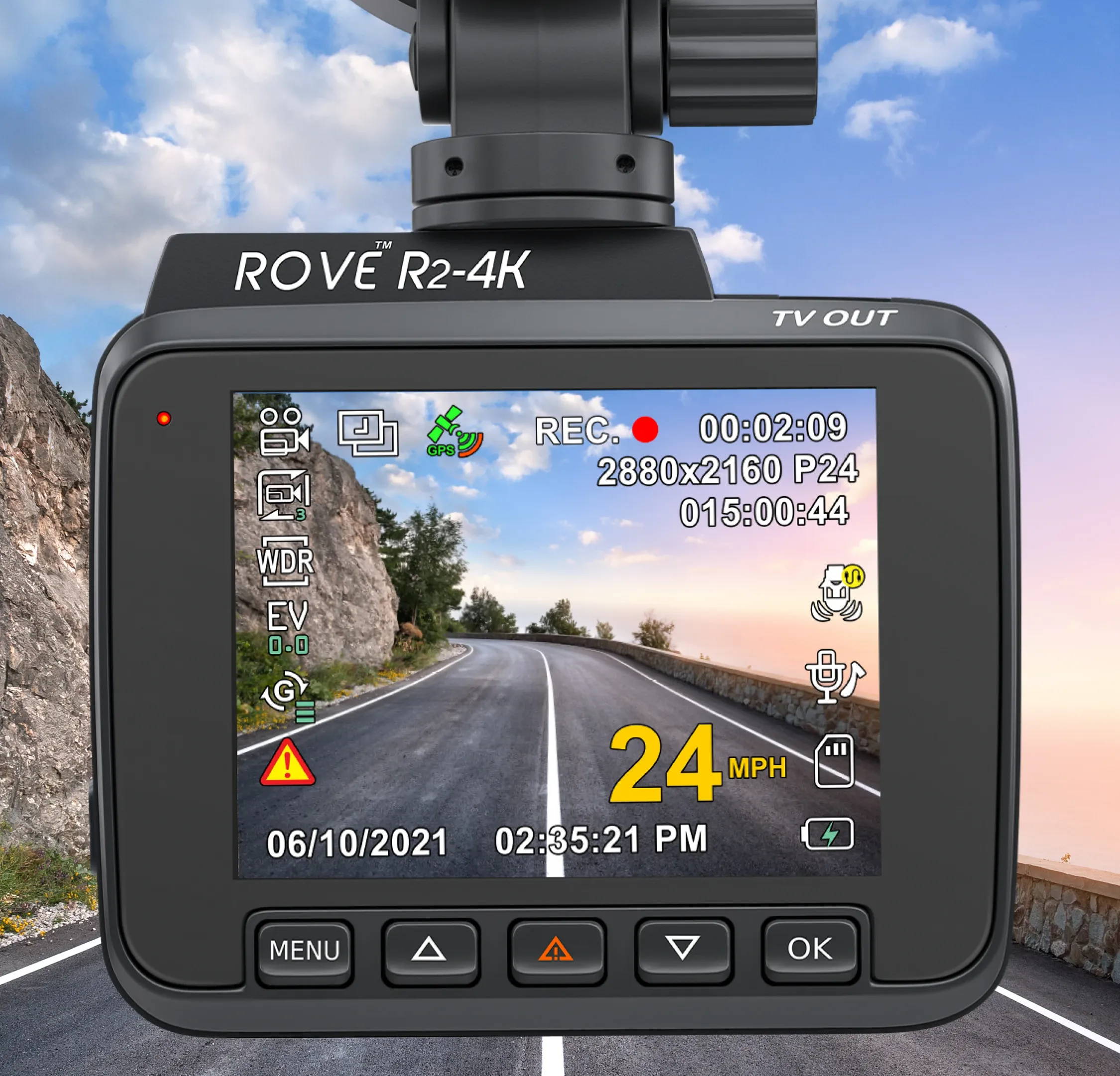 Our top picks for True 4K UHD Dash Cams

BEST BUDGET-FRIENDLY 4K DASH CAM
The A129 Pro Duo, which is equipped with an 8MP Sony Exmor R STARVIS image sensor, captures clear, vibrant colors with adequate detail in 4K UHD in the front and Full HD in the rear camera in all lighting conditions. The front camera captures in 130° and the rear camera in 140°, ensuring that nothing is missed, day or night.
The 50 mbps bitrate for the VIOFO A129 Pro is also worth mentioning, which is double those of other dash cams that only cater 25 mbps. Generally, bitrate is the amount of data processed per second when recording footage. More bits per second equals more video information. More information implies more details, which means better screen quality. Therefore, it's safe to say that despite its low price range, the VIOFO A129 Pro does an excellent job of recording everything around you.
Moreover, its WiFi connectivity allows you to connect your smartphone or tablet to the dash cam and view and download video files. If you don't want to connect your phone, you can watch videos on its 2-inch LCD screen.
Most A129 Duo Pros come with a mount that includes a GPS module that can watermark your video with your location and speed while also displaying your real-time speed on the dash cam's screen. If you don't want this to appear in your video files, you can disable it all.
BEST NIGHT VISION AND PARKING MODE 4K DASH CAM
Thinkware U1000 Dual-Channel

Delivering crystal-clear, high-quality video coverage, the Thinkware U1000 dual-camera has a 4K Ultra HD at 30FPS front camera that can be switched to 2K QHD at 60fps.
The U1000, which is equipped with an 8.24-megapixel Sony STARVIS image sensor for an improved Night Vision mode, can record high-quality videos in low-light environments such as dark backcountry roads and dim parking lots.
For best-in-class protection day and night, a 2K QHD rear camera and a free Thinkware Anti-Glare CPL Filter are also included in every purchase. For additional coverage, the dash cam is equipped with a 150º front view and a 156º rearview wide-angle. Its installed camera lenses are also rotatable to accommodate a wide range of windshields and mounting angles.
When in Parking Surveillance mode, the U1000 saves energy by going to standby and only recording events triggered by impacts. Energy Saving Parking Mode provides three times the video recording time of standard parking mode. It also comes with a free hardwiring kit to maximize this feature.
Its Thinkware App and Thinkware Cloud - also included in the purchase - allow you to playback footage, check the location of your vehicle and receive geo-fencing and impact notifications directly on your compatible iOS or Android smartphone.
THE BEST OVERALL 4K DASH CAM
In the dash cam community, Blackvue is known as the top-tier brand of car cameras. When people ask online about the "best dash cam," they are frequently directed to a Blackvue dash cam. And for us? This is the best 4K dash cam to date.
With the DR900X, you can capture the road ahead in 4K Ultra High Definition at 30fps with its 8-megapixel CMOS sensors. If you're wondering how clear this is, it's four times more clarity and details than Full HD. That means you can zoom in much further on a Full HD monitor without seeing any visible pixelation.
The DR900X also has video buffering, which ensures that your camera records the seconds leading up to the event, giving you the complete picture. It also has an optional CM100LTE connectivity module add-on, which you can insert a SIM card directly into, providing an internet connection for the camera whenever it's operational. Simply connect the CM100LTE to your BlackVue X Series dash cam to provide an always-on 4G LTE connection to BlackVue Cloud and its suite of unique live features.
With ultrafast dual-band built-in wi-fi and GPS, you'll know what's going on in real time. Downloading your footage via 5GHz wi-fi is literally twice as fast as other dash cams using 2.4GHz wi-fi. There will be no more lengthy buffering while you try to figure out who (or what) hit your car. At the touch of a button, you can access location data directly from your desktop or smartphone app viewer.
You can also use your free BlackVue Over the Cloud account to access powerful Cloud features such as instant push notifications, remote live view, GPS tracking, Cloud backup storage, and two-way voice communication.
Choose Real 4K for Real Protection

A quick Google search will yield a plethora of 4K cameras for you to choose from, but not all of them are true to their name.
We hope that our guide and recommendations will narrow down your search and lead you to the genuine 4k dash cam that you need. Got more questions? Send us a message and our dash cam experts will be happy to help!