VIOFO A119 V3 vs. Nextbase 522GW Dash Cam Review
2022 Best Dash Cam for Views and Value
When purchasing a dash cam, we consider a lot of factors - features, image quality, parking mode availability, and of course, budget.
If you're the type of driver who wants to have all of these functions without spending a lot, take a look at these two dash cams - Nextbase 522GW and VIOFO A119 V3 - and see which can deliver more for you.
Nextbase 522GW Image Quality and Recording Capabilities

Despite its compact size, the 522GW records in stunning 1440p HD at 30fps, which can be reduced to 1080p at 60fps or 1080p at 30fps, and has an improved 6G glass lens for capturing important details like road signs and license plates.
The polarizing filter built into the 522GW significantly also reduces windshield glare and reflection, with a rotating bezel that allows you to easily position the lens as needed.
Does the 522GW have Parking Mode?

The 522GW is equipped with an Intelligent Parking Mode feature. As soon as you park your car and the ignition is turned off, the Nextbase 522GW dashcam will automatically enter parking mode. If the G-sensor registers movement in front or when someone bumps your car, it will turn on and record for 30 seconds.
What are the Convenience Features of the Nextbase 522GW?

Built-In Alexa for Intelligent and Handsfree Mode
The 522GW, along with the 422GW, are the first 1440p dash cams with Alexa, allowing you to record important footage while keeping your hands on the wheel and eyes on the road.
Using voice controls, you can ask Alexa to play music, check the weather, find directions, and more from your dash cam. Alexa can also take photos, send videos to your phone, start and stop recording, and protect your files.
Nextbase Emergency SOS, the world's first dash cam with an emergency response system, is another new innovative feature on the 522GW as well. In the event of an accident, an alert with your location can be sent to emergency services. The alert can send vital medical information such as blood type and medical history to help with efficient treatment.
The 522GW also has Bluetooth 4.2, which automatically sends crash footage to your Bluetooth-enabled phone, QuickLink Wi-Fi for video transfer, and a higher accuracy GPS module for accurate speed and location data.
Click&Go PRO mount in every kit
To make it easy to install, every purchase also comes with a Click&Go PRO car mount, which is also available in the 522GW. The newly designed mount has a lower profile design and high strength neodymium magnets, allowing you to install and remove the dash cam with one hand.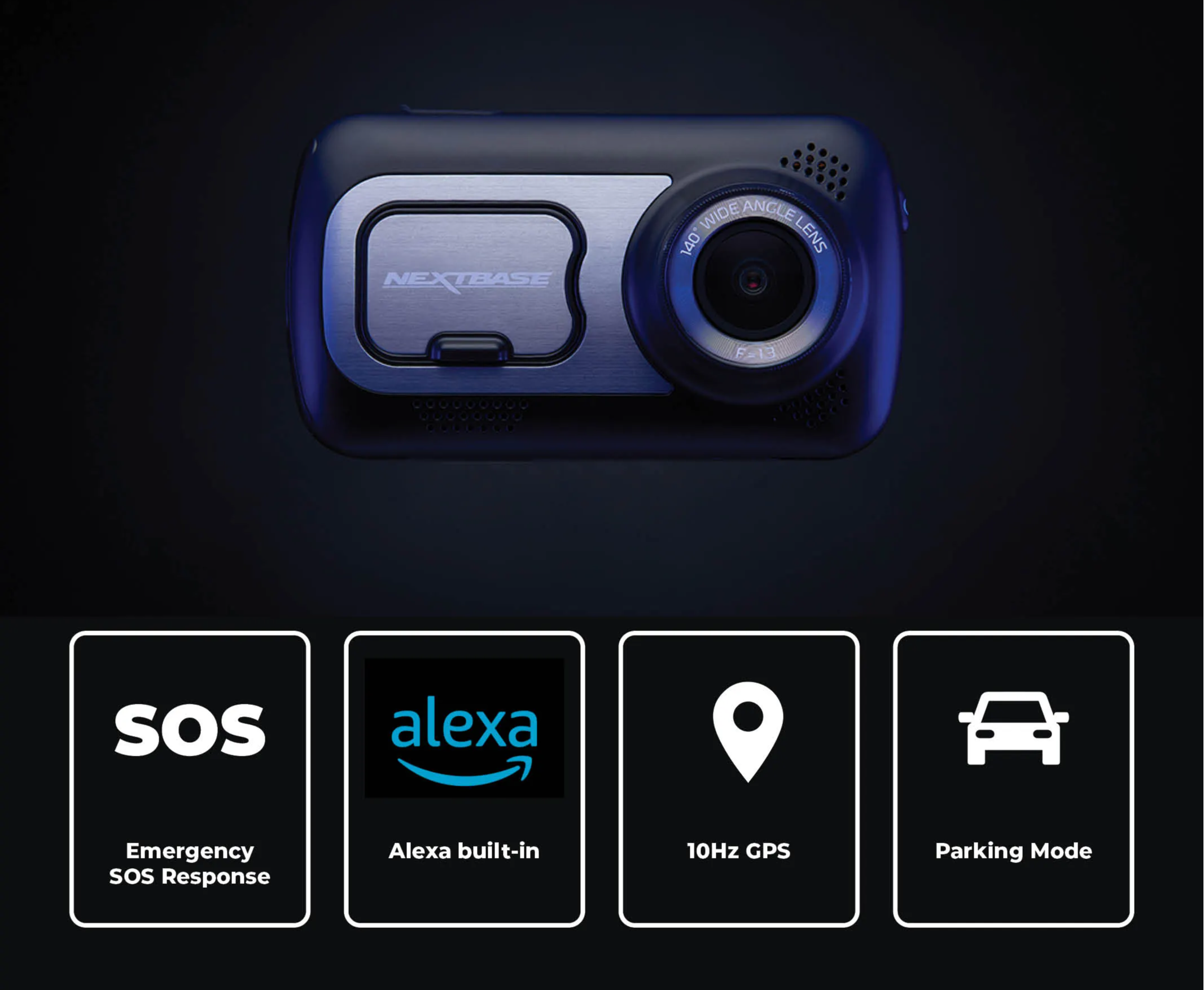 Does the 522GW have an App?

Apart from having a touch screen, Nextbase still managed to build a mobile app for easier access in the 522GW. MyNextbase Connect™ is an easy-to-use app that will enable you to effortlessly manage and share your videos, edit clips, and check for and install firmware updates.
MyNextbase Cloud is Nextbase's free online video sharing service where you can store your files safely and securely. Drivers can use the 'Share Video' function on either MyNextbase Player or the MyNextbase Connect app to upload your file to the Nextbase Server. As an added bonus, you will be able to password-protect your video.
VIOFO A119 V3 Image and Video Quality

As the third and latest generation of the A119 series, the video resolution of the A119 v3 goes all the way up to 2560x1600 pixels. It boasts an advanced 5MP IMX335 Sony Starvis sensor and F1.6 7G lens, shooting in stunning quality day and night at QHD+ resolution and 60/30 frames per second.
To deliver better footage, the A119 v3 has a 140-degree field of view that gives a wide and decent coverage of the road ahead. To reduce reflections when driving in bright sunlight, VIOFO also included an optional CPL filter for the A119 v3.
Housing a high-performance dash cam, the A119 v3 retains the wedge-shaped casing of previous A119 cameras. As a result, it is as discreet and functional as its predecessors, with a 2′′ screen and the 5 distinguishing buttons below the display. The lock-file button is slightly taller than the others and in the center, making it easy to find even when not looking at the camera.
Does the A119 V3 have Parking Mode?

In terms of security, this dash cam is also built with G-sensor and three parking mode functions: buffered parking, time-lapse, and low bit rate recording.
The VIOFO A119 V3 is the cheapest dash cam that supports buffered parking mode, as well as time lapse and low bit rate recording functions, and is available for less than $100 in its most basic configuration.
For more concrete evidence, the buffered parking mode records the 15 seconds preceding and 30 seconds following the triggered event. To use this feature, you'll need the HK3 hardwire kit, which can be purchased separately.
Unlike some dash cams, the A119 dash cam uses a super capacitor rather than a battery to record at a low frame rate while the car is parked.
What are the other security features of this VIOFO dash camera?

In addition to its security, VIOFO included an external GPS module to the V3 version. This tracks the speed, location and time on the footage, allowing your footage to be time-stamped accurately for more credible evidence.
Product Comparison: VIOFO A119 V3 VS. Nextbase 522GW

1440p HD @ 30fps 1080p HD @ 60fps
-10°C - 65°C (14°F - 149°F)
-20° to 45°C (from -4° to 113°F)
1-Year Manufacturer Warranty
1-Year Manufacturer Warranty
2022 Best Dash Cam for View and Value: Nextbase 522GW vs. VIOFO A119 V3

What's common in these two dash cams are the value they give for your money. Compared to the A119 V3, the Nextbase 522GW is pricier due to its tech features like Alexa, Emergency SOS, plus its built-in polarizing lens.
Meanwhile, the VIOFO entry here carries what's essential, so if you're looking for a dash cam with lots of features - both useful and not - the 522GW is the dash cam for you.
However, if you're after the image quality, parking mode flexibility, and cost-effectiveness, there's no doubt that the A119 V3 is the dash cam we will recommend, especially for the price.
Since 2019, the A119 V3 has been a crowd favorite, considered by professional dash cam reviewers to be the best budget dash cam in the market. It doesn't have as many advanced features as the 522GW, but all the functions equipped in VIOFO are something you will use frequently, which gives better value for your money.