Thinkware U1000
4K Dash Cam vs. Miofive Dash Cam

If you search for 4K dash cams online, Amazon will show you a long list of brands - delivering either true 4K QHD, or just forging with 2K or full HD. From this list, we recently discovered MIOFIVE, a dash cam brand that claims to offer true 4K QHD, dual-band Wi-FI, smart safety and security features. To our surprise, the package is like the Thinkware U1000 - but is almost half the price cheaper than the Thinkware favorite. In this article, we'll take a look at the similarities and differences of these two 4K dash cams and see which one provides the best value.
Round 1: Miofive vs. Thinkware U1000 Image Quality and Recording Capabilities

This is the most crucial part, so we're going to dive in here first. Both the Miofive and Thinkware U1000 offer single and dual channel systems. The Miofive is equipped with a 4K UHD (3840×2160) and 2K QHD (2560x1440) resolution - providing the same cinematic footage with the Thinkware U1000 that has a 4K Ultra HD at 30FPS front camera that can be switched to 2K QHD at 60fps.
The Miofive and U1000 both use Sony STARVIS image sensors. Since the Miofive is equipped with an IMX415 image sensor, we now know it's not one of those dishonest dash cam brands trying to forge a 4K video quality with a 2K QHD or Full HD image sensor.
The Thinkware U1000 also uses Sony STARVIS as well, but an IMX335 image sensor. While both image sensors are capable of true 4K UHD, the IMX415 is a tad smaller and as a result, nighttime footage appears darker compared to the U1000. Moreover, the U1000 is also equipped with an upgraded Night Vision, plus a free Thinkware Anti-Glare CPL Filter.
The Miofive dash cam comes with a 160-degree field of view to capture the road ahead and the traffic behind. Thinkware, on the other hand, only provides a 150º degree front view and 156º rear view wide-angle for its dual-channel system. Its installed camera lenses are also rotatable to accommodate a wide range of windshields and mounting angles.
Miofive Dash Cam vs. Thinkware U1000 Parking Mode

The Miofive also sports a G-sensor, 24-hour parking monitoring, and a timelapse recording feature. For motion impact, the Miofive records any captured event in both a 16-second and 60-second video. If you want to take advantage of the 24-hour parking mode and time lapse, you have to hardwire the Miofive to your car's fuse box.  
The Thinkware U1000 also carries the same parking mode features, but thanks to its latest technology, they also developed Energy Saving Mode 2.0. When in Parking Surveillance mode, the U1000 saves energy by going to standby and only recording events triggered by impacts. This provides three times the video recording time of standard parking mode. This can be activated with a Radar Module, which has to be bought separately.
Miofive Dash Cam vs. Thinkware U1000 Storage Capacity

Miofive claims that they're bringing more convenience to the users of their dash cam through its built-in eMMC storage. For its 1-channel system, the storage is 64GB while the dual-channel system offers 128GB. No need to put in a microSD card for both.
However, since this dash cam records videos in 4K, it consumes a lot of space too. Bear in mind that older footage will be overwritten once the 128Gb memory becomes full, so this built-in storage won't last as long as you might hope - a few days of continuous filming will do it.
To save videos with the Miofive permanently, you can transfer them directly to your phone and then move them to wherever you need for safe storage. Another is to disable parking mode or reduce the resolution in the camera settings - which we think is not convenient at all.
The Thinkware U1000, on the other hand, offers a free 32GB microSD card in every purchase - but both channel systems have an expandable storage up to 128GB.
Miofive Dash Cam vs. Thinkware U1000 Battery

For its single-channel model, the Miofive is equipped with a built-in 500 milliamp-hour lithium battery which should be able to power a 1-channel 4K dash cam for a bit over 2 hours. So for quick stops at the supermarket, the dash cam should be able to cover the parking duration. However, it won't be enough for a day at the office or even an afternoon of shopping at the mall.
It is also important to note that this Miofive has a lithium battery - which is something that we won't advise you to use especially during hot summer afternoons for more than two hours. Its new dual-channel variant has a supercapacitor, which makes us come up with two ideas: Miofive knows that 500mAh is not enough to power a 2-CH parking mode, or they probably did testings and the built-in battery was a bad idea so they had to change it.
On the other hand, the Thinkware U1000 uses a supercapacitor for both single and dual channel systems. In fact, for all of its dash cam lineup. Aside from the supercapacitor, it also comes with a built-in thermal sensor that protects the dash cam hardware and data against intense heat by automatically turning it off to prevent overheating.
Heat Resistance
The Miofive heat tolerance is 113-degree F (45-deg C), the U1000 is 140-degree F (60-deg C), that's 15-deg C difference, which we know is significant. Also, on a hot summer day, the temperature can easily get up to 113-F/45-C outdoors. Now imagine how hot it would be inside a car parked under the sun. Let's hope the dash cam built-in battery doesn't explode.
Miofive Dash Cam vs. Thinkware U1000 Features for safety and security

For driver assistance, the Miofive is also equipped with AI Algorithms such as Go Assist to monitor traffic conditions, and receive alerts of sudden braking and turns - which the Thinkware U1000 also covers with its ADAS and Safety Camera Alert functions.
The Miofive has a 2.2-inch screen for viewing, while the Thinkware U1000 is screenless. If you want to view the videos, both dash cams have the option to view it via mobile or via PC.
Thinkware App and Thinkware Cloud - also included in the purchase - allow you to playback footage, check the location of your vehicle and receive geo-fencing and impact notifications directly on your compatible iOS or Android smartphone. This comes even handy, since the Thinkware U1000 has GPS and dual-band 2.4Ghz and 5GHz Wi-Fi.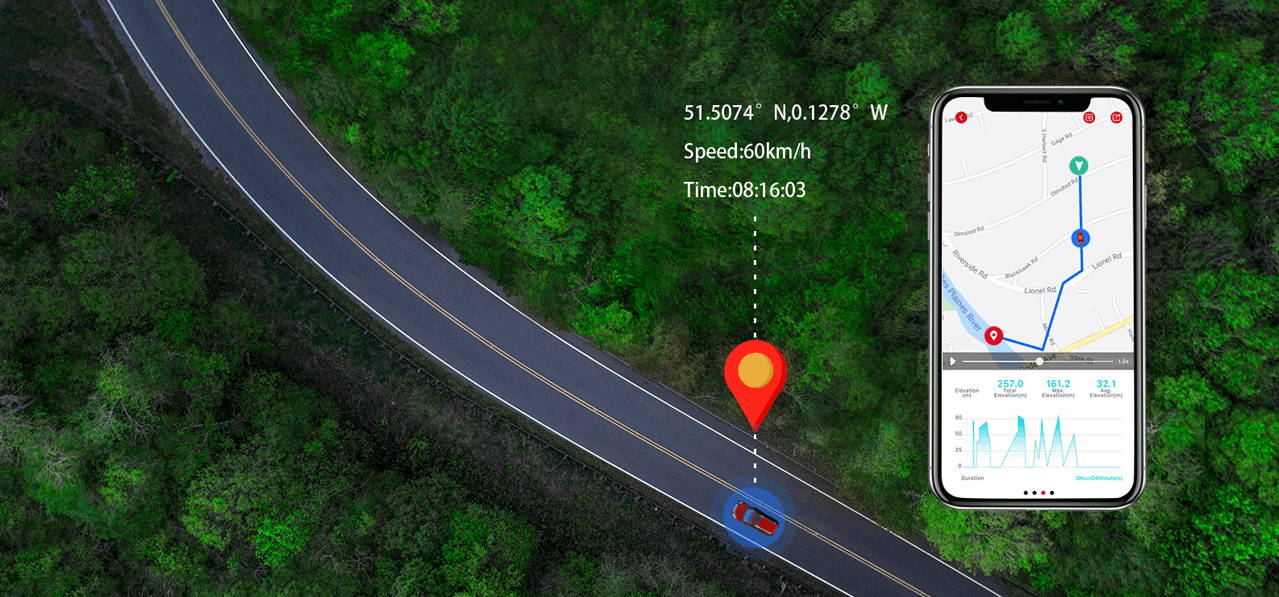 Miofive Dash Cam vs. Thinkware U1000

Resolution (Front | Rear)
4K QHD @ 30 FPS | 2K UHD @ 30 FPS
4K QHD @ 30 FPS | 2K UDH @ 30 FPS
8MP Sony STARVIS IMX335 sensors
8MP Sony STARVIS IMX415 sensors
-10°C - 60°C (14°F - 140°F)
Verdict: Miofive vs. Thinkware U1000 - Is the Challenge Successful?

Miofive is a relatively new brand established in 2020, and brought their 4K dash cam to market after a successful crowdfunding campaign on Kickstarter in Q4 2021. We have to admit that we're impressed with how they were able to offer a true 4K dash cam for less than $150.
However, it also makes us wonder how they are able to deliver this true 4K+2K dash cam at the price of a VIOFO Full HD 2-CH system. Is it the lesser features, the quality, or long-term reliability?
Moreover, while both dash cams offer 4K, the image sensors differ - and the Super Night Vision 2.0 of the Thinkware U1000 seals the deal. What's even better is that the U1000 can also be added with a CPL filter, which we all love for reducing the glare in footage.
In terms of app and desktop compatibility by users, Android and Windows had no issues reading the Miofive. Meanwhile, iOS and macOS users had some errors connecting Miofive, saying that the disk was not readable - even after reformatting using macOS's Disk Utility. This is something that we hope that Miofive can fix along the next few months.
We also want to mention that the Miofive is only available at Amazon at this time, unlike the Thinkware U1000 which is highly-available and continuously produced worldwide. This makes the U1000 - still - the champion for us. Since its launch in 2019, the U1000 has been top rated, and trusted by a long list of retailers like BlackboxMyCar.  
Clearly, the Thinkware U1000 is difficult to defeat. With its strong brand reputation for over 20 years, Thinkware has already mastered how every product and service should be efficient and useful for every customer.
If you want to experience how powerful this dash cam is, go and get yours by clicking the button below!