What is the BlackVue SIM Card?

Do I need it? What is it used for?
If you're the type of driver who loves posting or giving updates on your daily trips, your internet must be always ready at hand. And if your car's security matters as well to you, then LTE-enabled dash cams could be the all-in-one solution for you.
With the launch of the BlackVue DR750X LTE Plus Series, customers were able to maximize their safety and connectivity in every journey. Apart from the Sony STARVIS CMOS sensor for its front and rear cameras that captures high quality video footage, what people rave about this model is its built-in 4G LTE.
The dash cam built for the cloud has built-in 4G LTE connectivity that makes connecting to the Cloud simple. With the Mobile Hotspot Function, users can also use the BlackVue dash cam as a Wi-Fi router for up to five devices.
And BlackVue took another step higher when it introduced an easier way to connect to the BlackVue Cloud instantly - the all-new BlackVue SIM Card.
What is the BlackVue SIM Card?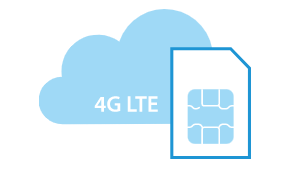 Despite the fact that BlackVue has made advances to ease the mobile pairing and dash cam registration processes, the Korean manufacturer wanted to make connecting its cameras to the Cloud even simpler for its users. While tech-savvy car owners may not mind searching for and selecting a data SIM card or configuring a mobile hotspot in their vehicle, some may find the process as a challenge. Thus, they introduced the new BlackVue SIM Card.
The SIM Card, which uses Telenor's global network, enables owners of BlackVue's latest dash cams with built-in LTE to easily connect their model to the Cloud right out of the box. Upon installation, the BlackVue SIM activates automatically in the dash cam.
Moreover, this 4G LTE SIM Card supports B2, B4, and B12 Band networks. Users only need to create a free BlackVue Cloud account and follow a few simple steps to connect their dashcam to the Cloud with the BlackVue SIM Card.
How do I use the SIM Card for the BlackVue Cloud?

To get started with BlackVue Cloud, follow these simple steps:
Download the BlackVue App on your smartphone or launch it on the Web Viewer and create your BlackVue Cloud Account.
Insert the SIM card from BlackVue. Insert the BlackVue SIM card (use the smallest size) into the SIM tray. You can use the dash cam's SIM ejector tool or a pin/paper clip to do this.
Pair with the Dash Cam. In the BlackVue App's main screen, tap Connect to Cloud, then the "+" icon to add your dash cam. Follow the steps and when prompted to choose a Cloud connection method, select BlackVue SIM card. Once set up, the dashcam will automatically connect to BlackVue Cloud.
Which BlackVue models uses a BlackVue SIM card?

What are the BlackVue SIM Card's LTE Data Plans?


To date, BlackVue SIM card data plans are 1GB for 10.99 USD, 3GB for 23.99 USD, and 5GB for 39.99 USD. BlackVue is also offering at least one free one-month 1GB data plan.
Following the free data plan, customers can choose to continue or purchase prepaid data for the month. Without committing to anything, the plan can be canceled at any time.
Will purchasing and subscribing to a SIM Card data plan allow me to use the BlackVue Cloud Account without restriction?

When you purchase a plan, you are buying the internet data in order to connect to the BlackVue Cloud. As a result, you may need to subscribe to the BlackVue Cloud plan separately if you want to have unlimited access to your camera or use up to three cameras in one account.
Can the Blackvue SIM card be switched from one dash cam to another if the customer has a fleet of cameras?

Yes! Because the SIM Card is not camera-specific, it can be used on any camera.
In which particular locations can I activate the BlackVue SIM Card?

BlackVue SIM Cards are only available in the United States and Canada. It only supports the networks of T-Mobile, AT&T, Telus, and Bell.
What if I don't want to use the BlackVue SIM Card?

When choosing a Cloud Connection method, you have the option not to use your BlackVue SIM Card. The other options are using a 3rd Party SIM Card which supports DR750X-2CH LTE, DR750X-2CH LTE Plus, and CM100G LTE module; or using a Wi-Fi Hotspot that supports all BlackVue models.
BlackVue 4G LTE and WIFI Connectivity

Tailor-made to keep you connected, the BlackVue SIM Card, LTE, and WiFi that come in every purchase are just a few of the reasons why you should get the DR750X-2CH LTE Plus series. You also get overall vehicle protection with the two-channel Full HD camera, GPS+GLONASS, and Intelligent Parking Mode through its Power Magic Accessories.
If you want built-in LTE connectivity:
CONSUMER SCORE: 80% gave it ★★★★★
The DR750X-2CH LTE Plus is a Cloud-ready front-and-rear 2-channel dash cam system that captures your drive at in 1080p Full HD at 60FPS.
The DR750X-2CH LTE Plus is built for users looking to make the most out of BlackVue's Cloud services. Connect to your BlackVue anytime, from anywhere in the world with BlackVue Cloud - just insert and activate the free included BlackVue SIM Card and you're ready to go. No need for a separate WiFi LTE hotspot. In fact - you an even turn the DR750X-2CH LTE Plus into a mobile hotspot for up to 5 devices.
If you don't want to use the BlackVue SIM service or if you have a great data plan with your service provider, you can also use your own 4G SIM card from the following networks: T-Mobile, Telus, Rogers, Bell.
If you already have the DR900X Plus or DR750X Plus dash cam and wants to add on LTE connectivity:
With DR900X/DR900X-Plus and DR750X/DR750X-Plus models, you can connect the LTE Connectivity Module (CM100G LTE) which is powered by the dashcam and provides 4G LTE connectivity for your dashcam.
This allows you to connect your dashcam to BlackVue Cloud and receive notifications to your phone when your parked car gets hit. It also lets you remotely see what your dashcam sees in real time. Being powered by the dashcam, you do not need to worry about the CM100G LTE running out of power like you might with a self-powered router.
This CM100G LTE-M is the North American version and is only compatible with the NEW BlackVue SIM Card or North American SIM cards. The CM100G LTE does not work with 5G cards and is not compatible with any SIM cards from AT&T and Verizon.