[PREORDER] BlackVue DR900X-1CH 4K Dash Cam
Get in front of the front - Preorder now the DR900X-1CH with the CM100 LTE Module now!

The DR900X-1CH and the all-new CM100 LTE Module are now available for pre-order. All units are expected to be shipped out early-October.
BlackVue DR900X-1CH 4K UHD Dash Cam
The new 4K Cloud dash cam standard.
BlackVue is officially replacing its DR900S series with the DR900X lineup, starting with the DR900X-1CH - keeping the ultra-stealth design and all of the great features but now with a heavier focus on Cloud integration.
The DR900X-1CH captures in pristine 4K UHD with an ultra-wide 162° field of view. All the imaging prowess of your dash cam is kept intact thanks to the advanced video encoding technology: the HEVC (H.265) compression means your videos look better and file size is kept as small as ever. Built-in voltage monitoring for the ultimate peace of mind when running parking mode recording.
Dual-band 2.4/5GHz WiFi lets you download footage videos to a smartphone at blazing speed and built-in port for the external BlackVue WiFi Router module offers hassle-free Cloud connectivity anytime, anywhere. Enjoy powerful Cloud features include instant push notifications, remote live view, GPS tracking, Cloud backup storage and two-way voice communication, all via your free BlackVue Over the Cloud account.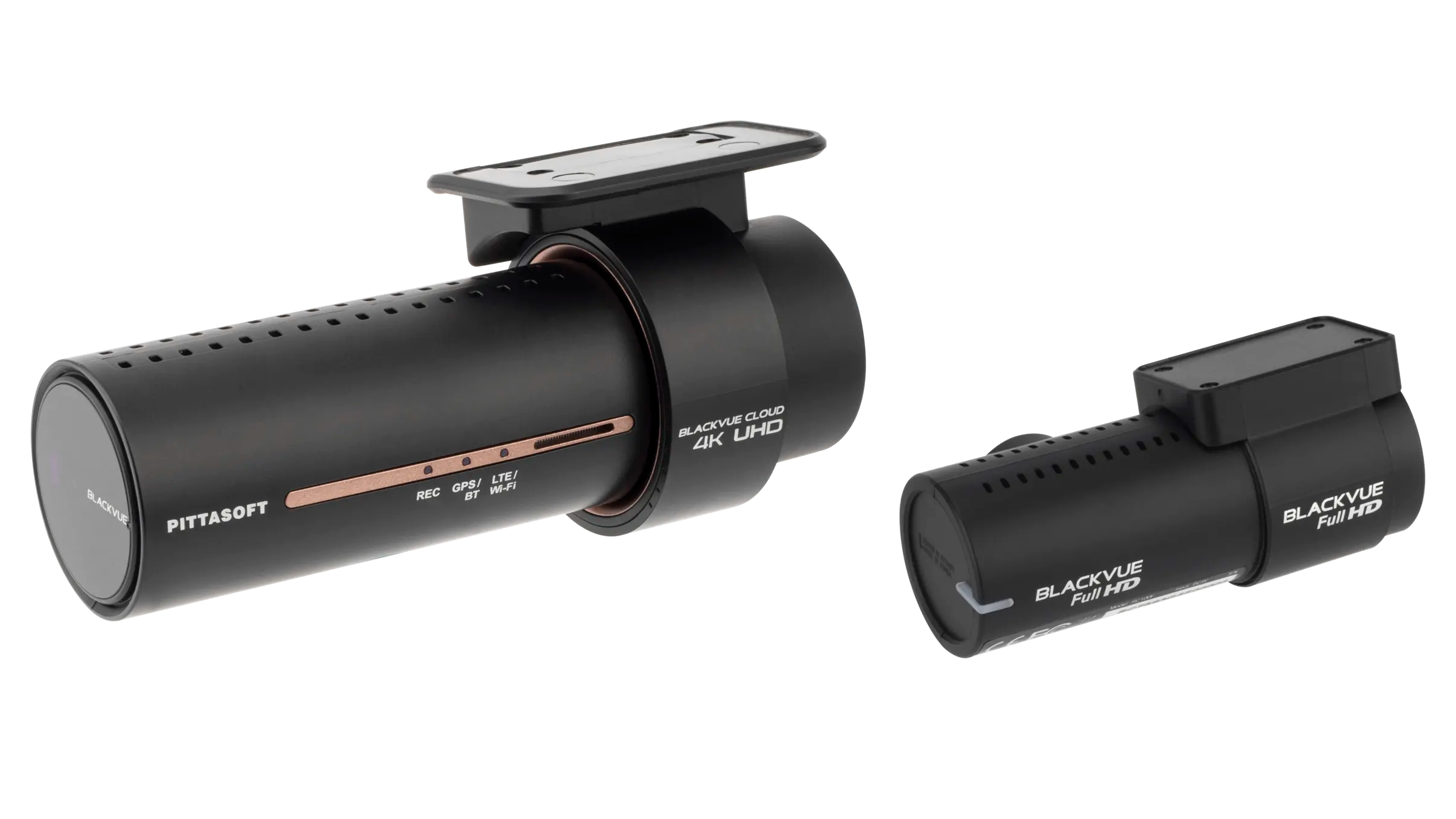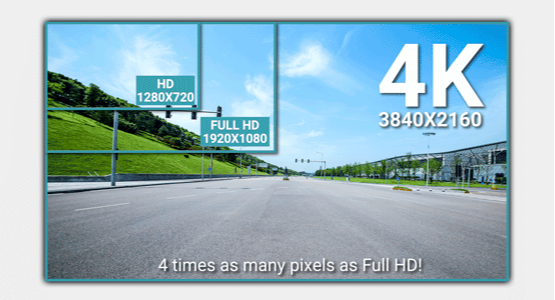 4K UHD Resolution
4X as many pixels as Full HD. License plates can be made out more clearly and from further away
Best Compression Technology
Video file size is similar to Full HD while offering 4 times bigger and better images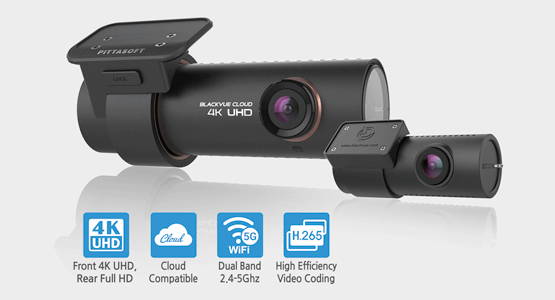 Premium Image Sensors
8MP CMOS sensor delivers crystal clear footage in all light situations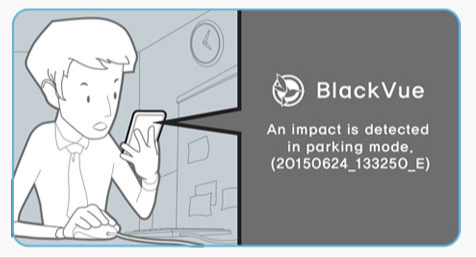 Push Notifications
Receive notifications on your phone when an event occurs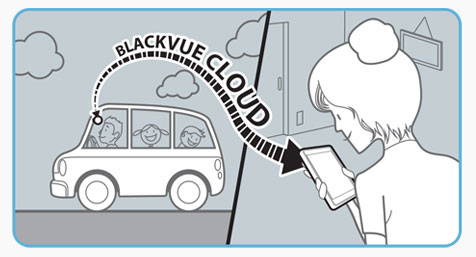 Remote Live View
Remotely monitor your vehicle in real time from anywhere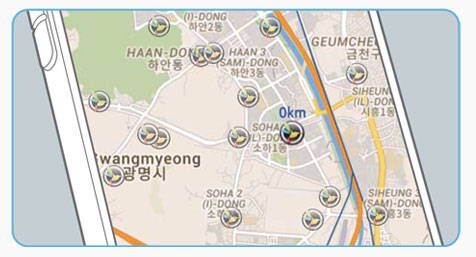 GPS Tracking
Get your vehicle's location and speed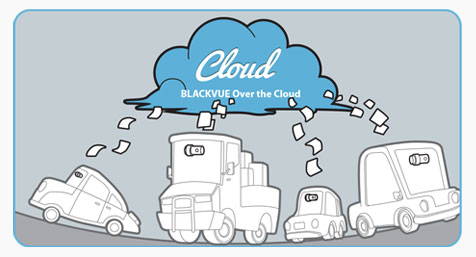 Cloud Backup & Auto-Upload
Back up videos to your phone or Cloud storage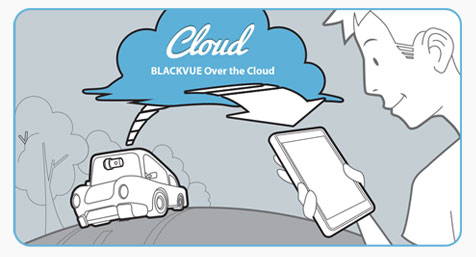 Remote Video Playback
Play videos stored in the Cloud or in your dash cam on your smartphone or tablet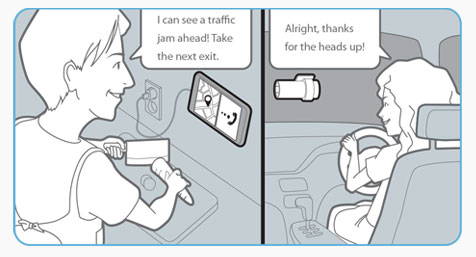 Two-Way Voice Communication
Communicate with anyone in the car from your smartphone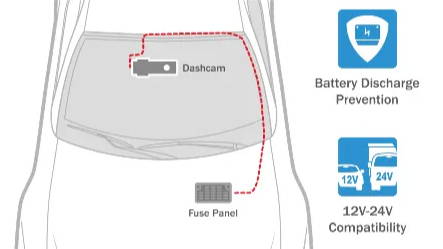 Built-in Voltage Monitoring
Built-in voltage monitoring allows you to hardwire the dash cam directly to your vehicle battery without fear of over-drainage or the need for additional voltage control device
Impact & Motion Detection
Footage recorded by the image sensor or the accelerometer G-sensor are marked as "P" or "E" in the file list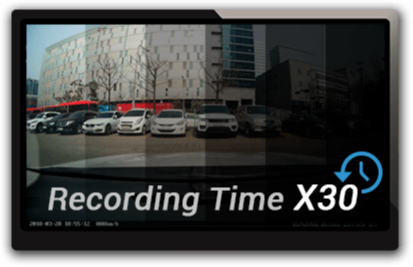 Time Lapse
1 minute time lapse parking mode video is equivalent to 30 minutes of real time coverage
4G LTE, Wi-Fi & Proprietary Technology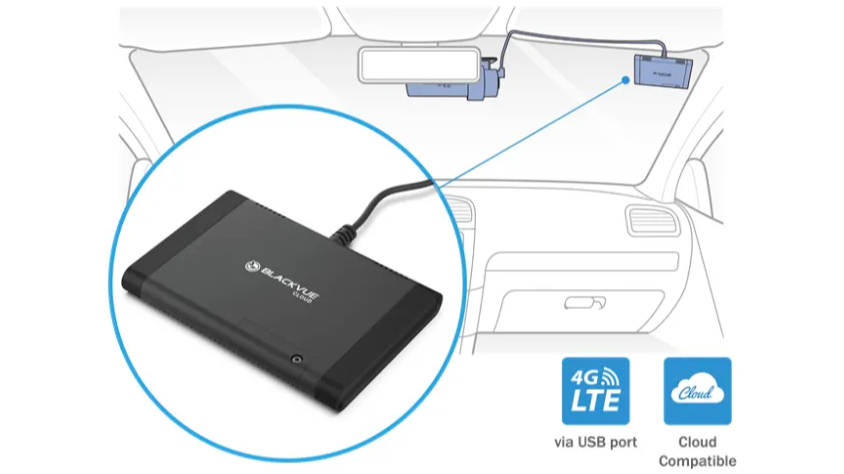 External BlackVue Router
Connect the dash cam to the optional WiFi module to stay connected to the Cloud anytime, anywhere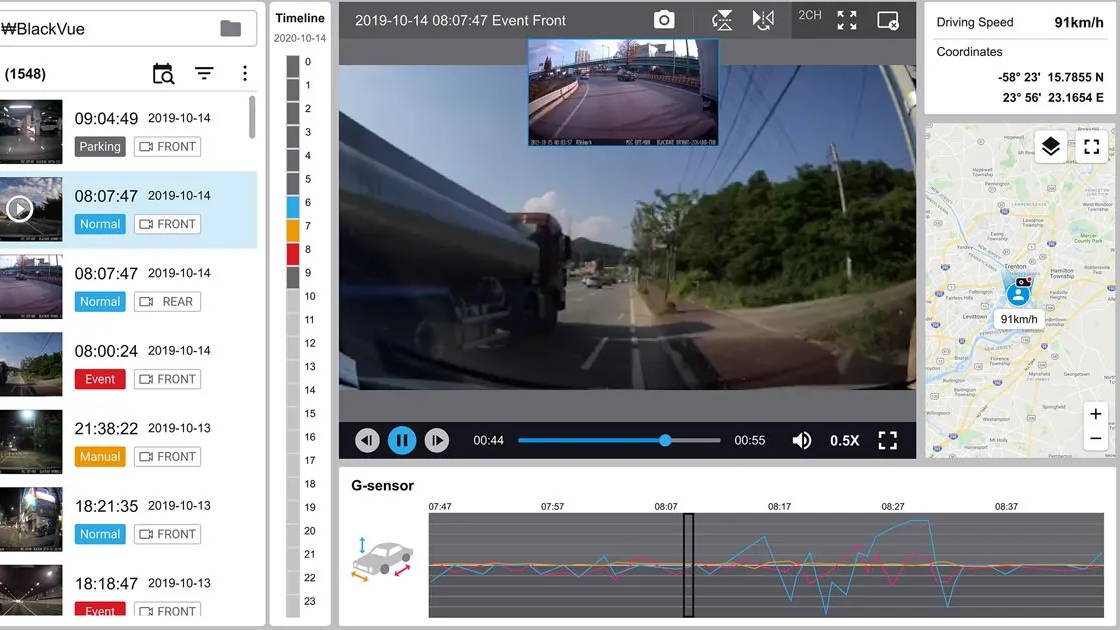 Built-In GPS
Built-in GPS offers speed and location information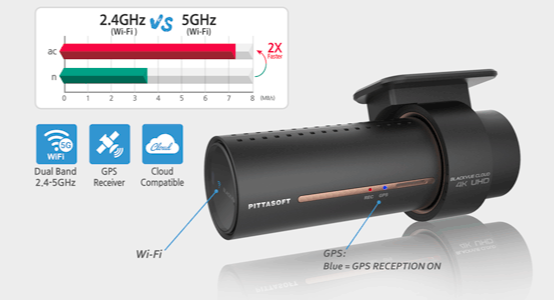 Built-In Dual Band Wi-Fi
Dual band Wi-Fi lets you download dash cam footage at blazing speeds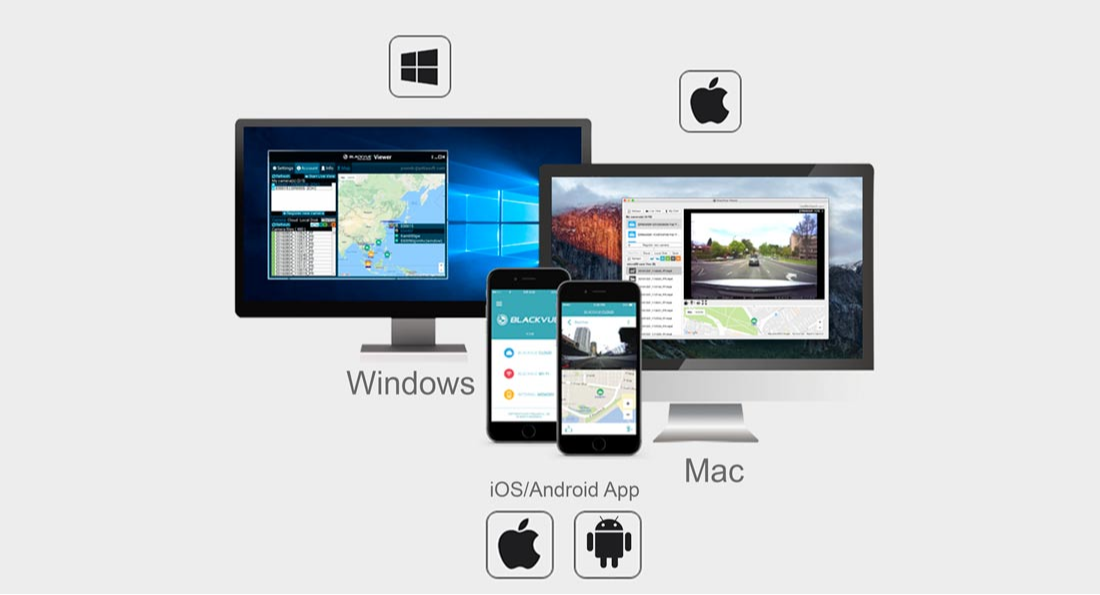 BlackVue App & Viewer
Easily change settings and browse through your footage on your desktop or smartphone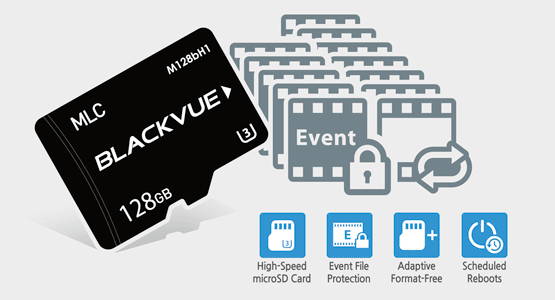 Optimized File Management
Event file overwrite protection, adaptive format-free file management, and scheduled reboots come standard on the DR900S
Customizable Proximity Sensor
Easily turn ON or OFF audio recording (or trigger manual recording) at the wave of your hand
Samples, Reviews & Comparisons

Stay tuned for our in-depth review as well as BlackVue product comparison reports.
Front Camera
MicroSD Card
MicroSD Card Reader
BlackVue Hardwiring Kit
12V Power Cable
Cable Clips
Spare Mounting Tape
Pry Tool
Quick Start Guide
1-Year Warranty
-20°C - 80°C (-4°F - 176°F)
BlackVue Viewer (Windows XP or higher and Mac Yosemite OS X (10.10) or higher)
BlackVue Application (Android 4.4.2 or higher, iOS 9.0 or higher)
1-Year Manufacturer Warranty
Comparing BlackVue Dash Cams