Dash Cam and Radar Detector Installations Now Available in Vancouver, BC
Last updated September 1, 2020
We do radar detector installations, too!

BlackboxMyCar now offers radar detector installation services by professional technicians. Appointments typically start at one hour , dependent on availability, vehicle make and model as well the radar detector.
To ensure the quality of the installation, we are only offering on radars purchased directly from us. We carry a variety of Escort and Cobra radar and laser detectors.
Installations typically start at $100/hour. Please contact our product experts to inquire for a price estimate or if you have any other questions or concerns.
So you've bought a dash cam - terrific! Now you just need to fit it in your vehicle. It doesn't matter if you are opting for a simple plug-and-play set up using your vehicle's cigarette lighter socket or you need to tap into your vehicle's fusebox to hardwire the dash cam to enable parking mode, installing a dash cam can be a little intimidating, especially if this is your first dash cam. If your dash cam isn't fitted properly, not only can insurers disregard the footage it captures, but you may well be breaking the law - dash cams must be fitted so they do not obstruct the driver's vision.
You've read all the How-to articles and watched all the installation videos you could find on YouTube. You've even resorted to dash cam forums for community help and advice. Working with your vehicle's power system can be dangerous to both you and your vehicle if you are not sure what you are doing.
Why not bring it into BlackboxMyCar, your dash cam experts? Our new service center in Richmond is now offering dash cam installations by appointment. Book your appointment today!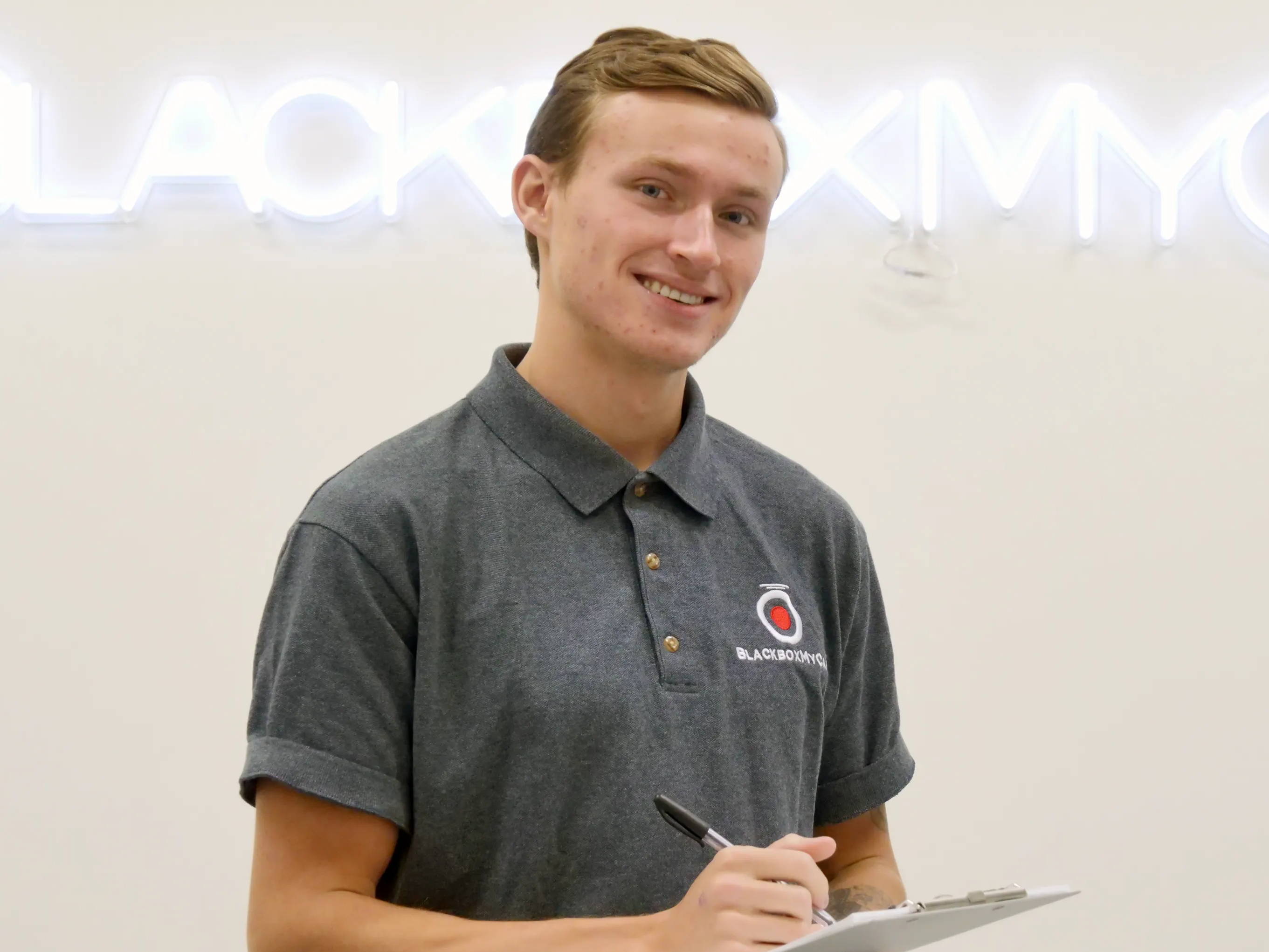 Our Richmond BC service center is our newly renovated space dedicated to providing dash cam installations for our clients in Richmond, Vancouver and the rest of the Lower Mainland area.
BlackboxMyCar offers dash cam installation services by professional technicians. Appointments take anywhere between 1-8 hours, dependent on availability, vehicle make and model as well the dash cam.
Front & Rear (Dual Channel)
Front & Rear (Dual Channel)
Front & Rear (Dual Channel)
Specialty Vehicles (Porsche, Land Rover, Jaguar and exotics)

Front & Rear (Dual Channel)
You only need a few minutes to book your appointment with our Dash Cam Installation Team in Richmond:
1. Open our online system in your web browser
Open our online booking system on your web browser. Alternatively, you can access the online booking page from our menu Contact Us > Book an Installation.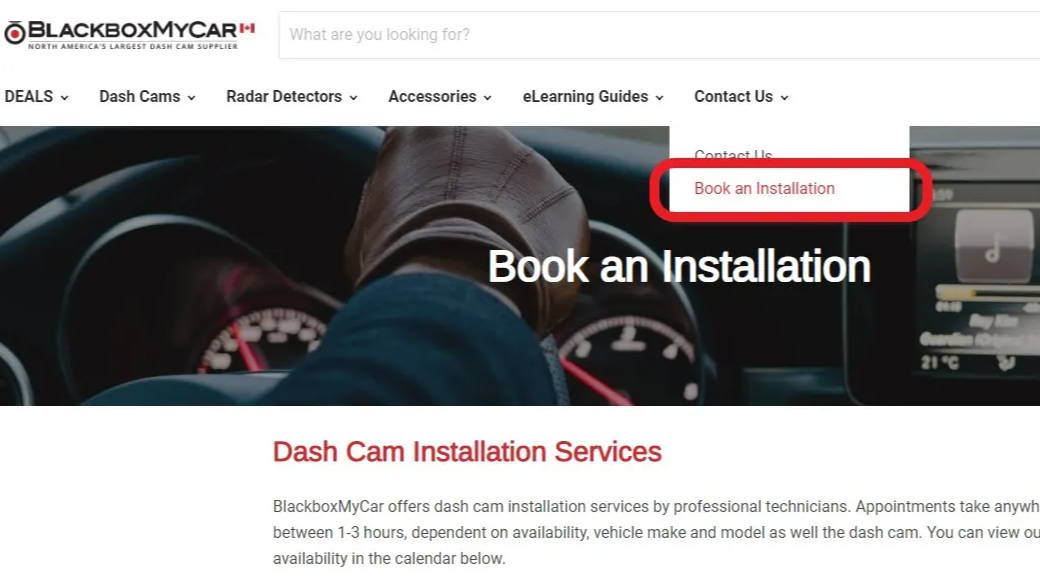 2. Select the type of installation you need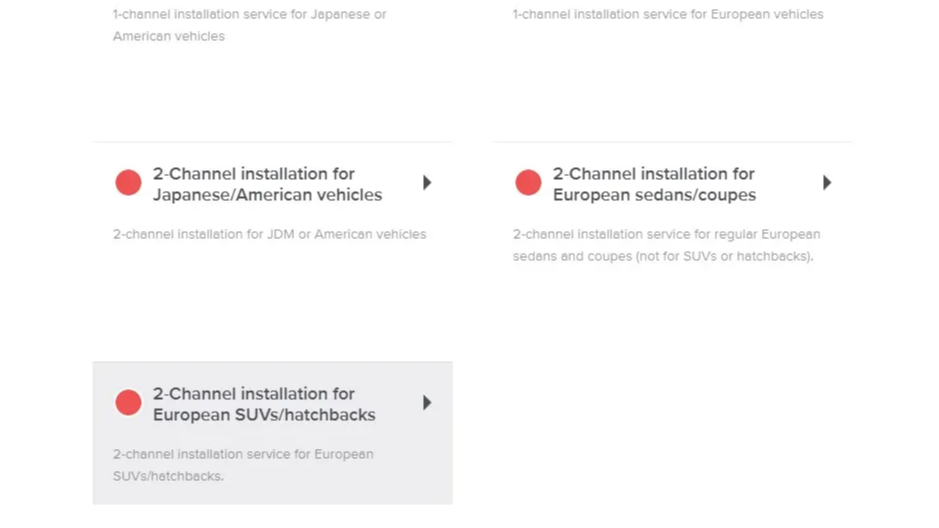 We offer 5 different types of installations, depending on the type of vehicle and the model of your dash cam. For example, if you want to install the Thinkware U1000 4K UHD 2-Channel dash cam system on your BMW X3, you will choose the 2-Channel Installation for European SUVs/hatchbacks option.
3. Next, select the desired date and time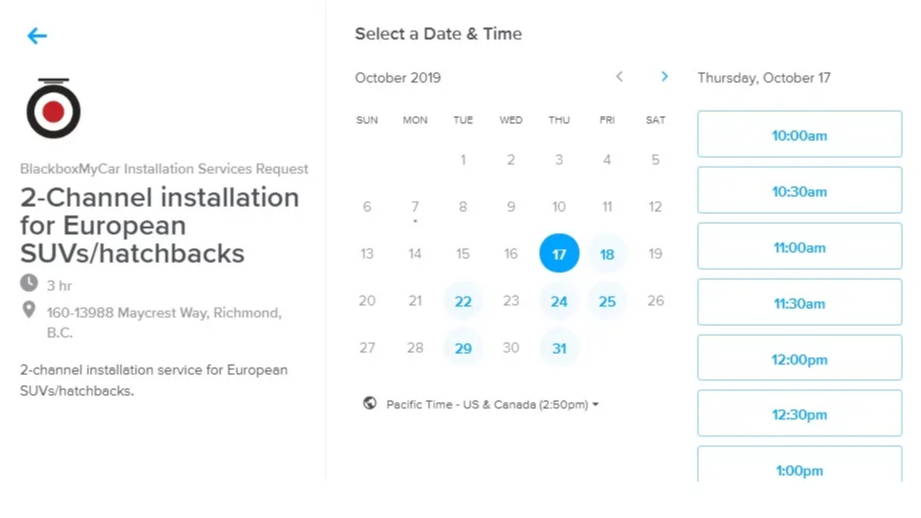 4. Click Confirm to complete the booking
Once we have received your appointment request, a member of our Installation team will contact you with additional information, including pricing, and to go over any questions you might have about the installation process.
Alternatively, you could contact us first for any questions you may have, and we can manually book you in for an appointment as well!
Coming in for Your Appointment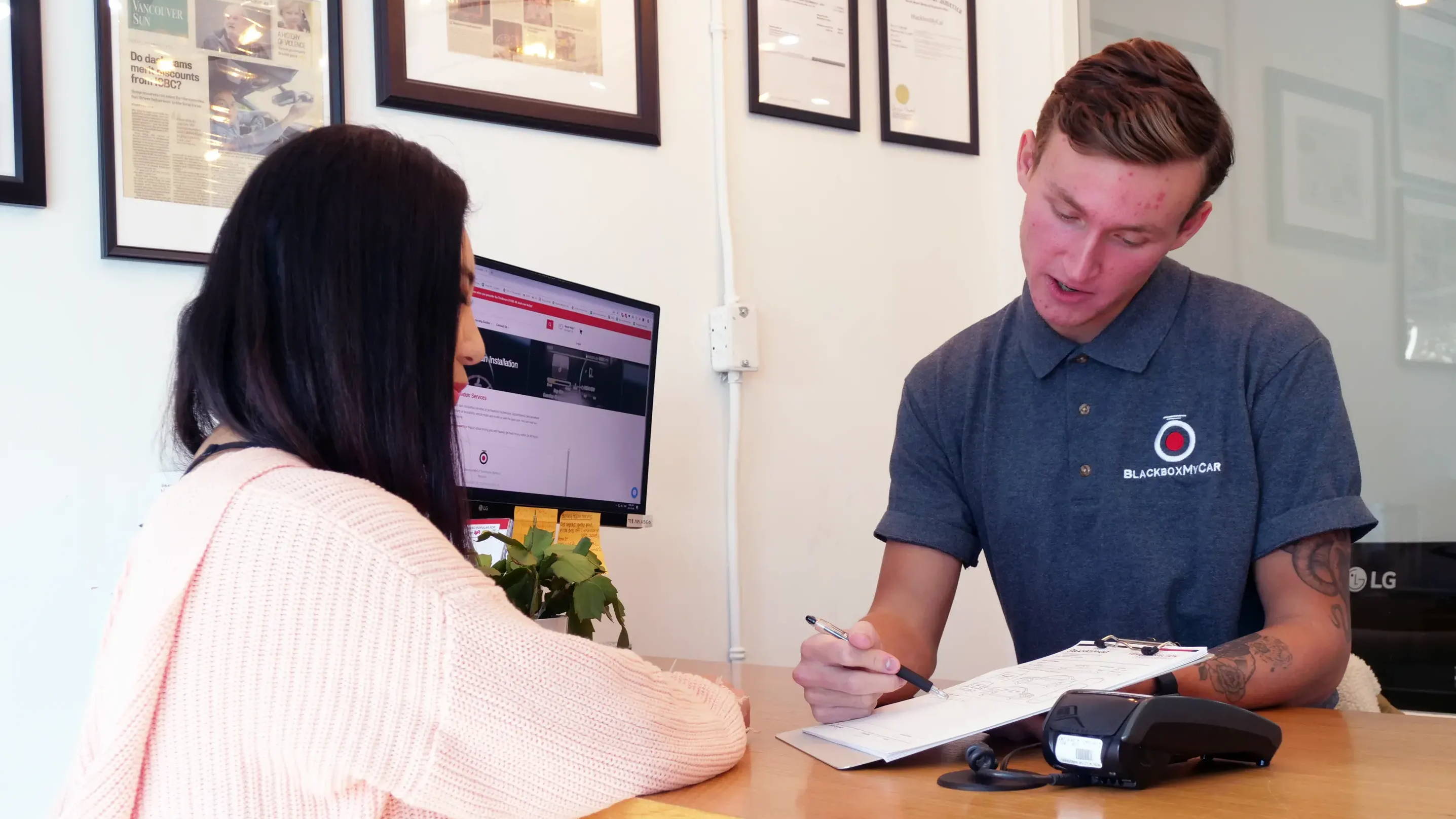 Bring your vehicle and your dash cam (unless you're picking one up from us) to our Richmond office on the day of installation appointment.
Upon check-in, our team will quickly go over the installation process with you and answer any last-minute questions you might have.
You can wait for your vehicle in our dedicated customer lounge, and enjoy complimentary coffee, TV and free WiFi. Best of all - our team of dash cam experts is just next door, ready to assist you should you have any questions or would like a demonstration of your new dash cam's features.
Most single channel dash cam installations take 1-1.5 hours to complete and most dual channel dash cam installation take 2-3 hours to complete. If you have other things you need to attend do, you are more than welcomed to leave your vehicle at the service center while your dash cam is being installed. We will give you a call when the installation is completed.
Easy, stress-free way to get your dash cam installed properly so you can start capturing all your adventures ahead! Book your appointment today!
BlackboxMyCar is Your #1 Dash Cam One-Stop Shop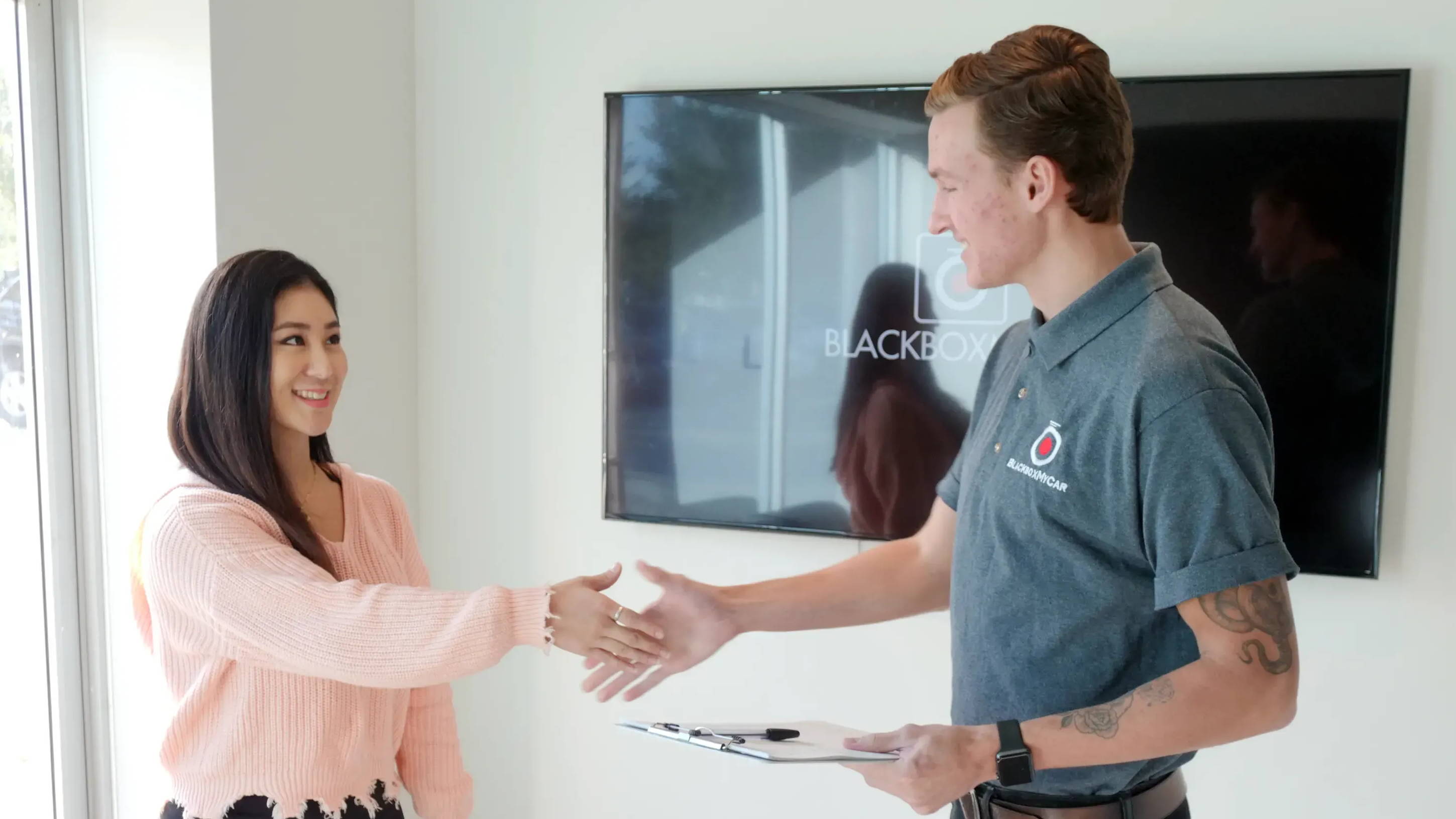 Shopping for a new dash cam? BlackboxMyCar is North America's most trusted and most loved authorized dash cam supplier. We have the hottest 4K UHD dash cams as well as budget-friendly dash cams for all types of drivers. Looking for professional dash cam systems for trucks and commercial vehicle fleets? We've got them, too! Our well-trained staff is here to help you with anything you need, from helping you find the best dash cam for your needs to expedited shipping, tutorials and guides, and warranty and returns. For real-time assistance, you can call us or Live Chat via our website. Or if you prefer emails, we have a rapid 1-2 hour turnaround time. So, what are you waiting for, come talk to us now!
Vancouver, why is BlackboxMyCar your #1 dash cam shop? Because you can talk to dash cam experts, purchase your new dash cam and get it installed all under the same roof, all within 1-2 hours at our retail and service center in Richmond!